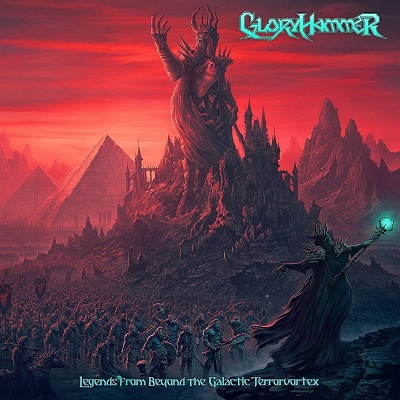 Gloryhammer are back with their third album – Legends from Beyond the Galactic Terrorvortex. It continues the story of Angus McFife from the first two albums. It doesnt seem that long since Gloryhammer first appeared on the Power Metal scene after Alestorm's Chris Bowes decided to see how many power metal cliches he could fit in a single song – which turned out to be a lot. While the band may not have expected the reception they got, the first album got a superb reception from fans – the tongue in cheek lyrics were refreshingly fun and when they toured supporting Stratovarius many fans simply left before or during Stratovarius who just felt dull in comparison. The debut album was followed by "Space 1999: Rise of the chaos wizards" in 2015 and saw the hero of the first album, Angus McFife, taking his battle with the evil wizard Zargothrax into space. Now in this new album we've got a mix of fantasy themes such as Dragons and Unicorns, and space – lasers and jetpacks.
These days Chris Bowes doesn't tour with the band due to other commitments including his work with Alestorm, but still writes much of the music and lyrics and the rest of the band are also involved in the writing on this album.
The album kicks off with the instrumental intro – "Into The Terrorvortex Of Kor-Virliath" which has a very cinematic feel to it, and leads into "The siege of Dunkeld (In hoots we trust)". Check out "The siege of Dunkeld (In hoots we trust)"….
"Hootsforce" definitely has an Alestorm feel particularly the bits without vocals. It's extremely catchy too.
The final track on the album is in five parts – "The Fires of ancient cosmic destiny" clocks in at over 12 minutes, and brings the saga to an end…or does it?
It's another fantastic album from Gloryhammer – It's excellent power metal but without the dull seriousness of some bands. It's catchy and at the same time has enough depth to stand up to repeated listening (and having listened to this a LOT it really doesn't start to get boring at all.
A great album.
Track listing:
1. Into The Terrorvortex Of Kor-Virliath
2. The siege of Dunkeld (In hoots we trust)
3. Masters of the galaxy
4. The land of unicorns
5. Power of the laser dragon fire
6. Legendary enchanted jetpack
7. Gloryhammer
8. Hootsforce
9. Battle for eternity
10. The Fires Of Ancient Cosmic Destiny I: Dundaxian Overture
The Fires Of Ancient Cosmic Destiny II: The Battle Of Cowdenbeath
The Fires Of Ancient Cosmic Destiny: III: Return Of The Astral Demigod Of Unst
The Fires Of Ancient Cosmic Destiny Iv: The Knife Of Evil
The Fires Of Ancient Cosmic Destiny V: Transmission
It's another fantastic album from Gloryhammer