"Twenties" is the latest advance offering from IMPERA, the imminent fifth album from GRAMMY-winning Swedish theatrical rock outfit GHOST, heralding its arrival on March 11 via Loma Vista Recordings.

With its messianic promises of reigns of pennies and piles of moolah set to an appropriately manic musical backdrop, the unrelenting and propulsive "Twenties" stands in stark contrast to its Pre-IMPERA predecessor, the eerily hypnotic "Call Me Little Sunshine."  In fact, the apocalyptically prophetic vibe of "Twenties" – particularly its lyrical relevance to historical events unfolding on the world stage (however incidental) – render the song utterly unique in the Ghost canon.
The release of "Twenties" is accompanied by an Apple Music New Music Daily exclusive interview with Ghost's Tobias Forge, welcoming Apple's Zane Lowe into the world of IMPERA. For more information, go to: https://found.ee/Ghost_ZaneLowe

Produced by Klas Åhlund and mixed by Andy Wallace — and also featuring the Active Rock #1 radio single "Hunter's Moon" — IMPERA finds Ghost transported literally centuries forward from the Black Plague era of its previous album, 2018 Best Rock Album GRAMMY nominee Prequelle. The result is the most ambitious and lyrically incisive entry in the Ghost canon: Over the course of IMPERA's 12-song cycle, empires rise and fall, would-be messiahs ply their hype (financial and spiritual alike), prophecies are foretold as the skies fill with celestial bodies divine and man-made… All in all, the most current and topical Ghost subject matter to date is set against a hypnotic and darkly colorful melodic backdrop making IMPERA a listen like no other — yet unmistakably, quintessentially Ghost.
GHOST

"Twenties"

New Single and Lyric Video Live Now

IMPERA OUT MARCH 11 ON LOMA VISTA RECORDINGS
UK & Europe Arena 'IMPERATOUR' Set For April / May 2022 

"Tell Them All… It Is Time"…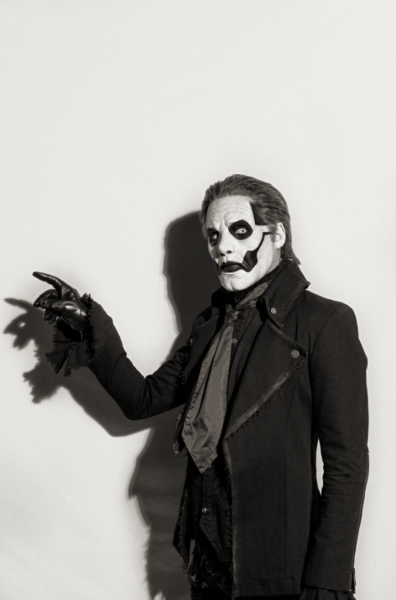 "Twenties" drops just as Ghost concludes a 26-date U.S. arena tour on March 3 at the Honda Center in Anaheim CA. The Pre-IMPERA Tour played nightly to rapturous crowds and critical acclaim alike, including:

"A Ghost concert is the aural equivalent of an amusement park visit."—BRAVE WORDS

"Papa's swagger level was on 100 while strutting across the stage… One of the most interesting aspects of Ghost and to Forge as Papa is the juxtaposition of what you're seeing versus what you're hearing."—CONSEQUENCE

"Ghost demonstrated why it is hailed as today's leading new heavy-metal band."—LINCOLN JOURNAL STAR

"Ghost's band of ghouls has never sounded tighter… The band's production is spectacular and Tobias Forge continues to creep up the list of greatest modern-day frontmen."—LOUDWIRE

"Triumphant… Papa Emeritus IV sashayed through an epic 16-song set"—REVOLVER

"Forge and the Nameless Ghouls put a lot of care and thought into their craft, and because of it, they delivered one of the most spectacular shows I have seen in awhile last night."—TWIN CITIES MEDIA

"Every time they tour, Ghost's stage show gets bigger and better."—WORCESTER TELEGRAM
Ghost will arrive in the UK & Europe this April & May, compelled to take their dark extravaganza to arenas everywhere. 
Branded the 'IMPERATOUR,' support across all UK & European shows will be provided by Uncle Acid & The Dead Beats and Twin Temple.  
'IMPERATOUR – EUROPE 2022'  
HEADLINE ARENA SHOWS: -   
APRIL  
Sat 9 Manchester, Arena, UK  
Mon 11 London, O2 Arena, UK  
Wed 13 Glasgow, Hydro, UK  
Fri 15 Birmingham, RWA Arena, UK  
Sun 17 Rotterdam, RTM Stage Ahoy, HOLLAND  
Mon 18 Paris, Accor Arena, FRANCE  
Tue 19 Cologne, Lanxess Arena, GERMANY    
Thu 21 Leipzig Quarterback Immobillen Arena, GERMANY   
Fri 22 Frankfurt, Festhalle, GERMANY   
Sun 24 Prague, Arena, CZECH REPUBLIC   
Wed 27 Tampere, Nokia Arena, FINLAND   
Fri 29 Stockhom, Avicii Arena, SWEDEN  
Sat 30 NOR, Oslo, Spektrum, NORWAY   
MAY 
Sun 1 Malmo, Malmo Arena, SWEDEN  
Tue 3 Brussels, Forest, BELGIUM  
Thurs 5 Milan, Mediolanum Forum, ITALY    
Sat 7 Barcelona, Olympic Arena Badalona, SPAIN  
Sun 8 Madrid, Vistalegre Arena, SPAIN  
Wed 11 Vienna, Stadthalle, AUSTRIA  
Fri 13  Zurich, Hallenstadion, SWITZERLAND   
Sun 15 Hannover ZAG Arena, GERMANY   
Mon 16 Munich, Olympiahalle, GERMANY   
Wed 18 Budapest, Arena, HUNGARY   
Tickets are available now, for more information visit www.ghost-official.com  

For further information:

https://ghost-official.com/
https://www.youtube.com/channel/UCAOiVaJJlH0Oduv48NN0mMA
https://twitter.com/thebandGHOST
https://www.facebook.com/thebandghost
https://www.instagram.com/thebandghost/?hl=en