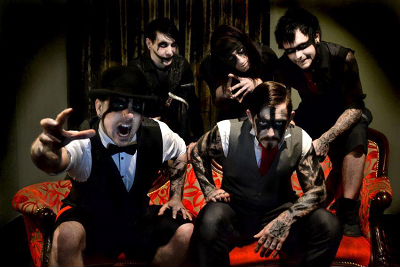 Gehtika are set to play the New Blood Stage at this years Bloodstock festival on Saturday the 10th August.
We catch up with the band to find out more about them, the festival, their thoughts and what you lucky Bloodstock go-er's will see!
Can you give the readers a quick introduction to the band.
Gehtika are 5 mental ward escapees attempting to blend into society as English Gents.
Mr Allen, Mr o'Meagher, Mr Hemming & Mr Timms were the first to escape the ward & upon successfully evading recapture, in their gentlemanly disguise, they decided to pass their evening times (and relieve their schizophrenic outbursts) by making some rather heavy music.
They were eventually joined by a fifth escapee, me – Mr Knight, who fitted in delightfully well due to his (my) fascination of screaming in people's faces & love of fine tea.
How would you describe your sound.
A truly Gentimental assault on the senses! Our sound is what you would imagine a Sherlock Holmes tale being told in the darkest deepest corridors of a mental ward during medication feeding.
Why did you want to become part of the New Blood Stage line up?
Although playing the New Blood Stage at Bloodstock may scupper our so far successful masquerade, by opening us up to the potential "unwanted attentions" of certain authorities…we felt it was most definitely worth the risk!
To have the opportunity to play at Bloodstock Festival in itself was obviously a huge reason in itself for us taking part in the Metal to the Masses rounds…so to have made it onto the New Blood Stage is bloody spiffing – the experience and potential exposure it can give to unsigned bands such as ourselves is unbelievable! As well as getting to play alongside the likes of Lamb of God, Slayer, Gojira and King Diamond of course…
What was your initial reaction when you found out you were playing on the New Blood Stage?
We couldn't believe that finally we will be able to host our own tea party at Bloodstock Festival!
SPIFFING old chap!
What can the audience expect from you at the festival.
A bloody good spiffing time!!
We in Gehtika pride ourselves on not only our musical ability & song writing, but also our stage show. As we said previously…we offer a Gentimental assault on the senses!
What has been the bands biggest achievement so far?
By far this opportunity! All thanks to our supporting fans, continuing to provide cover for us all these years during our escape!
Have you ever been to Bloodstock before? If so when and what did you enjoy most about it.
Machine Spiffing Head!! Why yes, I think it is all about the people and the social interaction with lots of new and old folk!
What is your opinion of the Bloodstock line-up.
There is certainly a fantastic variety to say the least, don't you think? Metal both old and new brought together for one glorious weekend in Hell…well, Derby…
What are you looking forward to most at Bloodstock.
Playing the New Blood Stage of course!! Seeing a crowd of crazy metal heads having a jolly good mosh to the sounds of the insane…that and, for me, seeing Lamb of God, Gojira…and having a wonder around the VIP area – Insightful? Delightful!
Can you sum up Bloodstock in one sentence!
No! It's too good for just one sentence! How dare you! You should be ashamed…
Any message you wish to pass on to the PM readers
Yes! Come along to Bloodstock, stop by the New Blood Stage (preferably at 1:30 on Saturday) go Gentimental and have a bloody good spiffing time!!
Thank you for taking the time out to complete this interview, we are looking forward to seeing you at Bloodstock \m/ \m/
Links:
https://www.facebook.com/gehtika
https://soundcloud.com/gehtika