Although they don't play their native Ireland on a regular basis, Gama Bomb were tonight returning to Belfast for the second time in around eight months, this time finding themselves in the rather sedate surroundings of the Empire Music Hall:  as its name suggests, this converted church is used to music of a slightly mellower mien – and as a regular frequenter of the venue, it was unusual to find a safety barrieer erected across the front of the stage and a hugely heightened security presence…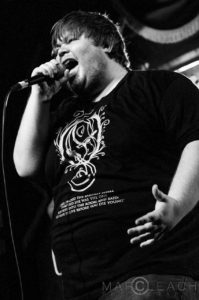 Showing huge dedication to the rawk 'n' roll cause, the PM team hot foot it from an earlier show just down the road in time to catch openers Sentient, making their live debut – as their vocalist somewhat over-zealously repeatedly points out during their 30 minute set.  Definitely very rough around the edges, they play confident if uninspired groove metal blend with progressive elementsand suffer from an inconsistency:  'Backhand', for example, disappears up its own arsehole with its jazz/funk experimentation;  but, not to be totally negative, they do get a reasonable response from the slowly growing crowd, and a few more gigs undoubtedly will loosen them up a bit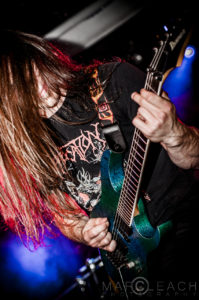 Zombified are a totally different kettle of fish altogether.  The undoubted leaders of Belfast's extremely small deathgrind scene, and very much drawing on the pedigree of Cannibal Corpse and Deicide, their sound is suitably gruesome – darkly apocalyptic riffs built on a truly stunning drum sound, underpinned by dense bass lines and and topped by frontman Pete Clarke's suitably menacing, disturbing vocal:  tonight, the vocalist is particularly intense and focused, delivering a passionately fiery performance.  Despite technical problems with Chris' bass, the band are on top form, with Clarke calling for more and more from his audience:  new track 'The Crawler' one of the most vicious tracks they have produced and the majestic 'The Lost Art Of Strangulation' a highlight as ever
https://www.facebook.com/zombifieduk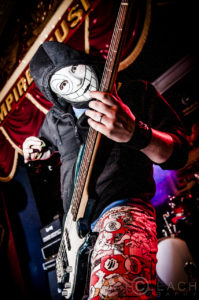 It's hard to take the masked madness of Mental Deficiency seriously – but, then, you're not supposed to!  They are a band that specialize in extracting the urine – an art they consistently take to new levels, as demonstrated tonight when frontman Mr Majestic covers for Alex Kazam's guitar problems by delivering an impromptu nipple solo!  They are capable of moments of seriousness, as demonstrated by the anti-war passion of 'The Patriot' and the four musicians are all more than capable of playing their instruments, and very well:  but, they are all about creating mayhem and uproar wherever they go, and never fail to entertain, with closer 'Get Her Home, Get Her Bucked' (tonight played faster than I've heard it in a long time) basically summarizing their approach to their craft.
https://www.facebook.com/mentaldeficiencyband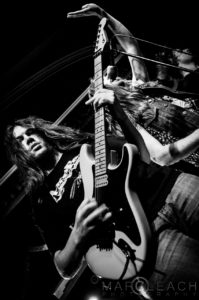 Being a music journalist in a particular geographic area means that you have an almost inevitable duty to support your local music scene to the best of your ability – but that doesn't mean that you have to like every band to emerge from that scene, or pay lip service to them when they manage to move out of that particular locale, gain international success and help put your little corner of the world on the global metal map.  So, I'm going to lay my cards on the table and say that I'm not a big fan of Gama Bomb:  never really have been and probably never really will be.  Don't get me wrong, I have a lot of admiration for what they have achieved and the success that has come their way, but I've always felt that they have spent the past decade trying to be a poor man's Anthrax.
Tonight, frontman Philly Byrne wins the award for the most ridiculous trousers ever worn by a heavy metal frontman – bright green things with horrible big orange flowers all over them – and the most inappropriate T-shirt (I have to look twice, three times, to confirm that it is indeed Michael Jackson's face emblazoned across his chest!).  But, what he lacks in dress sense he more than makes up for in charisma, as he definitely is blessed with the Irish gift of the gab, knowing how to get a crowd going and win doubters over, with his between song banter easy and unforced and laced with typical Irish humour and the usual inane sexual innuendo (such as his reference to "nice dicks Belfast" at the end of the frenetic singalong of 'Dick Jones').
Musically, the band are well honed and tighter than a Ballymena man discovering its his round, and the set's fast, unrelenting pace draws a suitably passionate response – although given the confines of the particular venue, any attempt to start a mosh pit is pointless, with rows of flailing hair more than making up for this particular shortcoming.  There is no doubt about it:  Gama Bomb are good at what they do – bloody good at it – but I remain to be convinced that they are anything really special…
https://www.facebook.com/gamabomb
Photographs by Marc Leach.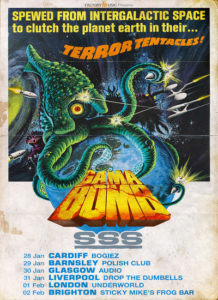 'The Terror Tapes' is out now on AFM Records.
Gama Bomb play the following dates in early 2014:
Tuesday January 28th – Bogiez, Cardiff
Wednesday January29th – Polish Club, Barnsley
Thursday January 30th – Audio, Glasgow
Friday January 31st – Drop The Dumbells, Liverpool
Saturday February 1st – The Underworld, London
Sunday February – Sticky Mike's Frog Bar, Brighton
Support on all dates comes from SSS.
Check out more photos from this gig at http://planetmosh.com/gama-bomb-photos-belfast-2013/