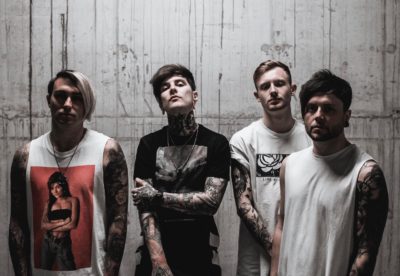 Brit Alt-metallers FROM INSIDE are back with their blistering new EP, When I'm Breathing Without You, which arrives on 14th September. Before then, we grilled the guys about their history and beginnings……
How and when did the band form?
The band formed in 2016 but it wasn't until 2017 when we officially launched with our debut EP 'The New Era'. We are all highly ambitious people and the band was formed on the back of our shared dream.
When and how did the band really start gelling and solidifying?
We are still a relatively new band to the public but FROM INSIDE was many hard years in the making. Our first ever show on 6th January 2016 was a sell out and everything has just grew from there. We firmly believe that everything we have done so far is just a small drop in the ocean compared to what is to come over the coming years.
Who are your musical influences?
Our musical influences come from more than just our favourite bands, they come from some of our personal experiences growing up. Our singer Simon Mora has had numerous near death experiences; one was an attempted murder on him when he was a child by a grown man. Another time was when he almost died of a collapsed lung in his early 20's, which occurred shortly before playing live with his old band. He somehow performed the show but was subsequently rushed to hospital straight away and required emergency surgery.
Simon was also homeless for a year when he was only 14 years old after his parents split up. He found refuse at a family members house however it only last for a very small time as he was kicked out when that person fused prescription drugs with alcohol and went on a violent rage against him. This meant that Simon was forced to move to a homeless shelter for a year.
These are the sort of life experiences that influence how we approach writing emotional charged music.
Where did the name of band come from?
After Chester Bennington's passing last year, it feels right to give a nod to the fact that our name had some inspiration from the Linkin Park song 'From The Inside'. We do feel the name means more than that though; our songs and their messages come from deep inside of us so the name is very fitting. Everything we ever do is packed with emotion and meaning.
How far back does your history with each other (the band members) extend?
Not very far, it was only fate brought us together! Thomas and Bam were in a past band together but other than that we have only known each other for along as the FROM INSIDE cycle began.
Where have you played or toured?
It's still early days for FROM INSIDE but we managed to conclude three UK tours in our first full year as a band with plenty of festival dates & support shows in between. We have played with some of the UK's top rising acts such as Wstr, Loathe, Holding Abscence. We also supported Crazy Town and Slaves for two short runs of dates.
In your opinion, how is your band different from all the other bands out there?
We are just four human beings that have been through all the shit that life throws at you. We have experienced personal loss, grief, break ups from long term relationships, been sacked from jobs, kicked out of school, dealt with substance abuse, suffered from depression, anxiety and most of the usual hard ships that we all as a society have to live with on a daily basis. Sure, life is hard but we know that doesn't make us any different from anyone else as we ALL have to deal with it. No one is immune to it. We just want to keep things real to us personally and thats more important to us than being different to anyone else.
If a deaf person were to ask you to describe the sound of your music, how would you describe it?
Plenty of emotion, both positive & negative.
Do you have a tour on the horizon?
We will be doing a UK wide tour at the start of September to coincide with the release of "When I'm Breathing Without You".
Where can we find your social media sites?
Facebook: http://facebook.com/frominsideuk
Instagram: http://instagram.com/frominsideuk
Twitter: http://twitter.com/frominsideuk
Youtube: https://www.youtube.com/channel/UC3_FYC3-xevmxAeWH3g4U9A
Store: http://frominside.bigcartel.com