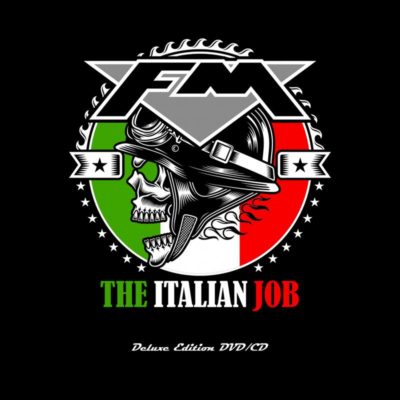 Now flying the flag for AOR for thirty five years now, FM fly it even higher on their latest album The Italian Job, a live recording from their appearance at the Frontiers Rock Festival in Milan on April 29th 2018 that features seventeen songs and a bonus DVD released on Feb.22nd 2019 via Frontiers Music Srl.
Seventeen, yes seventeen songs are included here from their debut album Indiscreet to the present day of Atomic Generation and 'Black Magic, one of two aired from the latest studio album has the vociferous crowd in full voice from the off as they join in with the band for the "Whoa oh ohs". It's a mighty opener with meaty riffs, a rock solid rhythm section and a lead vocal from Steve Overland who is rightly known as 'The Voice' and thanks the crowd with a "Fantastic, how are we?". Other highlights are following number 'I Belong To The Night' from their classic debut album. It's all grandiose pomp rock at its finest driven along on muscly powerchords from Steve and Jim Kirkpatrick with their trademark big choruses adding finesse.
'Life Is A Highway' is guitar heavy and has a powerful lyrical theme. The crowd become one with the band again during 'Let Love Be The Leader', melodic rock at its very best featuring a fiery twin guitar outro. Steve's vocal tour de force throughout 'Someday (You'll Come Running)' puts the power into power ballad. It's back to the heavy stuff as 'Killed By Love' riffs with aplomb and the choruses are an instant earworm backed by a crowd intent on giving Steve some competition. 'Over You' has always been my favourite FM track and the live version affirms that statement as the melody with muscle vibes have every ingredient to tag it an AOR classic!
Steve dominates again on the sumptuous balladry of 'Closer To Heaven' as he tears at the heart strings with ease and also with the majestic 'Story Of My Life' as he seemingly makes time stand still. Could it be the best ballad ever? If not it's not far off the top spot. Their set ends with four rockers as 'Bad Luck' hits hard and heavy closely followed with no pause for breath by the put up or shut up intent from 'Tough It Out' with Jim raging away on his fretboard midway. 'That Girl' headbangs along backed by atmospheric keyboard touches from Jem Davis and their triumphant set ends on the chugging rhythms of 'Other Side Of Midnight', a strong end to an exhilarating gig as Steve still soars strongly right to the end of it.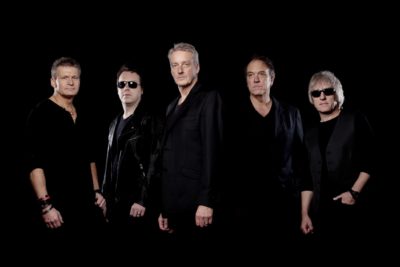 FM band line up :-
Steve Overland – Lead vocals/guitar.
Merv Goldsworthy – Bass guitar.
Pete Jupp – Drums.
Jim Kirkpatrick – Lead guitar.
Jem Davis – Keyboards.
A live album highlighting the stunning musicianship of FM.