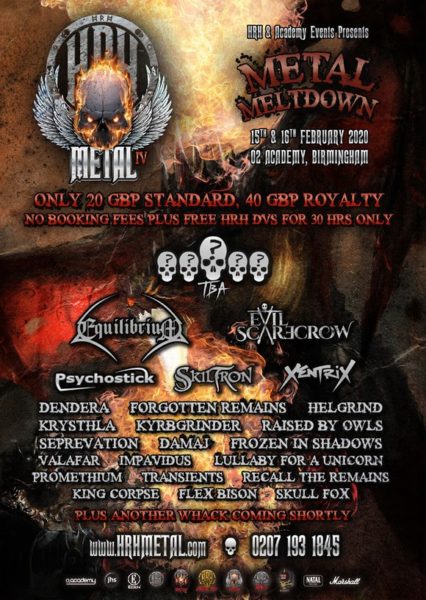 We don't normally give everyone a taste of next years Metal adventure this early, but it's the first gig of the year and we're feeling cool, so here's 20+ to get everyone started and all for 20 Quid (no booking fee), plus free HRH Doom vs HRH Stoner event .. BUT only until 23.30 Sunday night when HRH Metal III finishes.
Equilibrium who bring their unique Bavarian black symphonic folk metal to Birmingham – with nearly every song sung in their native German tongue we are in for a truly bombastic experience.  Their intoxicating melodies and sheer power show why these genre busting Germans are one of the biggest metal bands in Europe.
Nottingham based theatrical metallers Evil Scarecrow make their highly anti-anticipated return to HRH Metal and will no doubt provide one of the most talked about sets of the weekend.  Dr Rabid Hell will no doubt transform the O2 Academy into his personal operating theatre – you have been warned…
Psychostick from Chicago USA will deliver their insane mix of hardcore metal and laughs – showing what happens when you grow up listening to Pantera and Weird Al – with The Simpsons thrown in for good measure.  HRH Metal IV must prepare for an explosive set which is not to be missed.
Thrash veterans Xentrix will be blowing away any pesky ghosts from the O2 – having reformed in 2013 these guys know how to melt faces and our 2020 festival will be the perfect place to do it – as the band themselves say they love nothing better than playing live to a rabid metal crowd.
Hamburg based folk-power metallers Skiltron lead their clan to the battlefields of Birmingham – they bring their intense South American folk metal to England once more – leading the line at HRH Metal IV.
Other bands playing include Dendera, Forgotten Remains, Helgrind, Krysthla, Kyrbgrinder, Raised By Owls, Seprevation, Damaj, Frozen In Shadows, Valafar, Impavidus, Promethium, Lullaby For A Unicorn, Transients, Recall The Remains, King Corpse, Flex Bison and Skull Fox with another whack coming shortly.
Bookings can be made online at www.hrhmetal.com before the "loco offer" expires Sunday night as the event finishes.
Likewise discounted Royalty tickets for 40 Quid also get a Royalty weekend pass for HRH Doom vs HRH Stoner too!
Royalty Hotel packages have 15% off and include Royalty passes for HRH Metal IV and HRH Doom vs HRH Stoner also.
Frikkin' marvellous!
For all enquiries contact the Box Office, Holly on 0207 193 1845 or on live chat from the website.
Grab it, Sort it, Lock it n' smile!