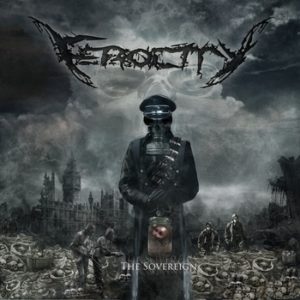 Ferocity, a Danish death metal band, focuses on truly ferocious vocals, thick buzzsaw stringwork, and solid percussion in a variety of tempos on their second and latest release, The Sovereign.
Deep, guttural vocals are "mixed high", tending to blot out what's happening underneath.
That said, the band seems to have worked on quality 'riff factory' songwriting, and many of the tunes have real neck-snapping potential.
These ten songs focus on abrasive atonality, rhythmic integrity over sheer speed, and a blistering attack.
Several tunes channel an old-school, mid-paced vibe.
While the record is not life-changing, it's a solid genre-upholding release nonetheless.
Track Listing:
…And the Rest Is Silence
Chain of Command
Human Game
Son of Sam
XIIth Legion
Abrupt Desolation (Instrumental)
The Sovereign
Blind Disciple
No Rest for the Wicked
Blood Trophy