Ferocious Dog with a new lineup, play twelve UK headline shows in March and April.
"We're super excited to get back on the road and do the 2nd half of "The Hope" tour and play in some brand new (to FD) venues. Finishing the tour at our hometown Rock City is going to be one of the best things we've ever done" exclaims Dan Booth.

Ferocious Dog welcome back Kyle Peters on guitar; Kyle played on their debut album, which includes Pocket of Madness, which he wrote and sang on. The band will be playing fan favourite Pocket of Madness throughout the whole tour. Ferocious Dog also has a new rhythm section with new members Nick Wragg (bass) and Luke Grainger (drums) joining Ken Bonsall, Dan Booth and Sam Wood, to complete the sextet.

Following these shows, the band play The Bearded Theory in May, with further festival appearances to follow including the Bloodstock and Rebellion festivals in August. More shows will be announced soon.
Ferocious Dog's latest album The Hope, includes the title track, released as a single to coincide with World Mental Health day and the previous singles: 'Broken Soldier' and 'Pentrich Rising'.

The Hope debuted at Number One on the Official UK & Ireland Folk Album Charts  and entered the National Album charts at Number 31. While the vinyl version of The Hope entered the Top 20 Vinyl Album Chart.

The Hope flows irresistibly through tales of historical observations, to biting commentary on the plights facing the world today.  The songs follow a rollercoaster of pace and sentiment which will have you wanting to mosh one moment before having a moment to contemplate.

The Hope carries on in the strong tradition of Ferocious Dog albums, with thought-provoking and politically charged lyrics, seamlessly combining with dynamic and eclectic music. A great follow-up to the album Fake News & Propaganda – Ferocious Dog seems to have the knack of evolving their sound enough to pique your interest, without losing any of the sound or attitude that made you fall in love with them in the first place. 

To order/stream The Hope go to: https://ffm.to/thehope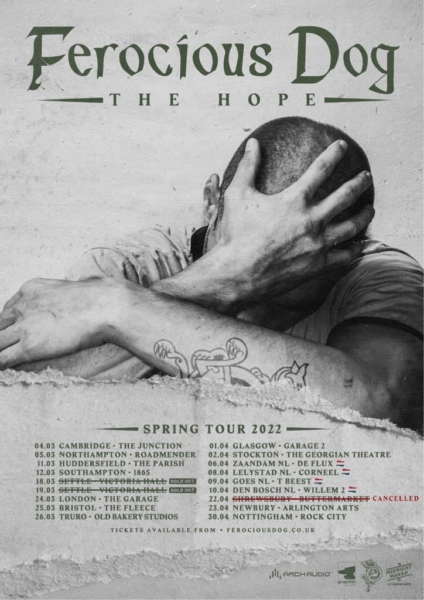 UK 2021 tour dates:
March
Fri 4th The Junction Cambridge
Sat 5th Roadmender Northampton
Fri 11thThe Parish Huddersfield
Sat 12th 1865 Southampton
Fri 18th Victoria Hall Settle SOLD OUT
Sat 19th Victoria Hall Settle SOLD OUT
Thu 24th The Garage London
Fri 25th The Fleece Bristol
Sat 26th Old Bakery Studios Truro
April
Fri 1st The Garage Glasgow
Sat 2nd The Georgian Theatre Stockton-On-Tees
Sat 23rd Arlington Arts Centre Newbury
Sat 30th Rock City Nottingham
May
Sun 1st Nothern Kin Festival
Fri 20th Keswick Mountain Festival
Sat 28th Bearded Theory Festival Derby
July
Fri 15th The Live Rooms Chester
Sat 16th Kubix Festival Sunderland
Fri 22nd Chagstock Festival Dartmoor
Sat 23rd O2 Academy Leeds A unique performance with 2 sets (acoustic then electric)
Fri 29th Y Not Festval Pikehall
August
Thu 4th Rebellion Festival Blackpool
Sat 6th Wickham Festival
Sat 13th Bloodstock Festival Walton-on-Trent
November
Sun 6th The Tivoli Buckley
Tickets available from : https://ferociousdog.co.uk/tickets-and-tours/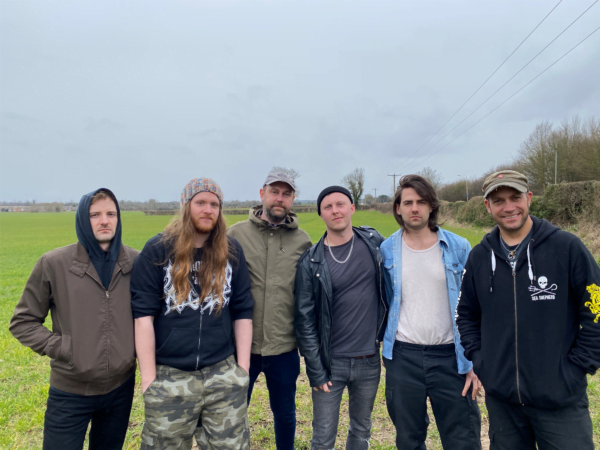 Ferocious Dog are:
Ken Bonsall – Lead singer & acoustic guitar.
Dan Booth – Violin & lead vocals on some songs.
Sam Wood – Multi-instrumentalist.
Kyle Peters – Guitar
Nick Wragg- Bass
Luke Grainger- Drums

Tickets available from: https://ferociousdog.co.uk/tickets-and-tours/