Much-acclaimed guitarist, Félix Rabin (a.k.a. Pogboy) – a gifted prodigy of the Swiss rock and blues scene — will be returning to the UK in March and April on a 4-date UK tour, including 3 headline gigs and an appearance at the Bowness Bay Blues Festival, giving his existing fans and anyone with a love of top-notch rock and blues a wonderful opportunity to see this master of the guitar in live performance.
In the words of FabricationsHQ: "If you want someone who is ploughing his own progressively tinged blues, rock, pop and soul furrow, Félix Rabin may well be your man. Vive la France; vive le Pogboy."
Félix's roots, heroes and influences include icons like John Mayer, Jimi Hendrix, and Stevie Ray Vaughan, along with bands like Pink Floyd. His idols' influences can be heard in his style, though it is distinctive and original, not a pastiche or echo of past masters, and the young virtuoso has been praised for adding inventive riffs and moody melodies to contemporary rock.
Félix began his career in the Swiss 'Three Lakes' region, where his self-taught, strong, distinctive, rock and blues guitar style began to attract fans. He then went on to take artistic residency at the 'King' bar in Neuchâtel. In addition, performances of his hard-driving blues at key Swiss festivals brought him further into the limelight.
"I'm looking forward to returning to the UK," says Felix, "It's a nation with a rich rock history and such a vibrant live music scene. This will be my first UK Tour of 2023: a run of four gigs across Hull, Bowness, Chislehurst and Leamington Spa, taking place between the end of March and early April 2023. What's more, this will be my last UK tour before I release my new EP in October 2023.
"For this tour, we'll be playing our first gig ever in Hull at the Adelphi. We'll then head West to Bowness for the Bowness Bay Blues Festival on the second of April. After that, we'll be back at the Beaverwood in Chislehurst, where we played in January 2022. Last time, we had a great gig there: looking forward to hitting that stage again!
"Then, to wrap up this tour, we will end with a gig in Leamington Spa at Temperance. It's been a few years now: I haven't been in Leamington Spa since we played there in 2018, opening for Wishbone Ash at The Assembly.
"This will be the last tour in the UK before I release my new EP in October 2023. The next tour will take place in November this year, with a new show that will include songs from the upcoming EP. Until then, this is your last chance to catch up live for a few months. Really excited to travel to the UK again and to see you at the gigs before I head back to the studio again to finish my next piece of work!"
If you're a fan of high-quality rock and blues guitar, enriched by jazz-influenced extras, you should definitely check out this young Frenchman and his forthcoming UK tour dates, Félix Rabin needs to be on your RADAR!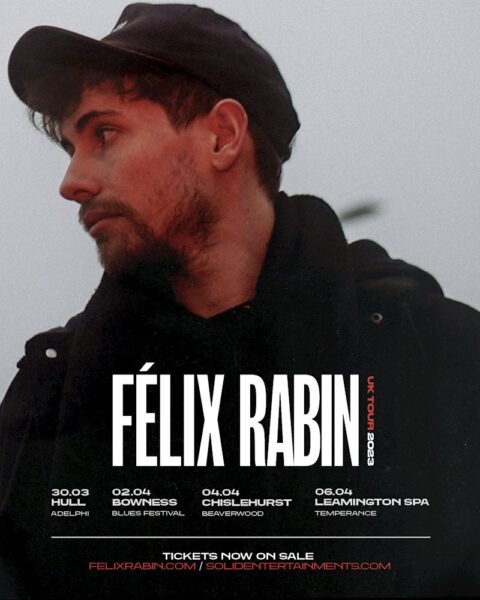 See https://www.felixrabin.com/ for full details. 
TOUR DATES
30.03 – Hull – Adelphi
02.04 – Bowness Bay Blues festival
04.04 – Chislehurst – The Beaverwood
06.04 – Leamington Spa – Temperance