Esprit D'Air announces their new 17-date "Leviathan Tour" in the UK and Europe after selling out their entire self-promoted UK tour earlier this year.
Lead vocalist and producer Kai says:
"After our sold out 7-date tour in the UK earlier this year, we felt like we had more to give and could do more. As soon as the last tour finished, I went ahead and booked an even bigger one. This time, I chose cities that bands sometimes forget, and we're going to every country in the UK including Northern Ireland. 12 out of 17 are cities that we have never been in before. I will also be planning more European dates, wherever possible—so please wait for me!"
Esprit D'Air will be performing their album 'Oceans', which re-entered several Official UK Charts including #8 in Rock & Metal Albums, #5 in Album Downloads, and #19 in Scottish Albums earlier this year, plus more. The live line-up for the tour consists of Kai (Esprit D'Air), Jan-Vincent Velazco (Pendragon, Gus G) on drums, Takeshi on bass, and Yusuke on guitar.
Reformed in 2016, Esprit D'Air is a Japanese electronic rock/metal solo project led by vocalist, multi-instrumentalist, and producer, Kai. In 2018, Esprit D'Air won 'Best Metal Album' at The Independent Music Awards in New York, for the release of their debut album, Constellations, judged by an esteemed panel featuring Slayer, Amy Lee (Evanescence), Sepultura and more.
Kai is not seeking a major record label but instead, follows a strong DIY ethos and produces everything himself to be as self-sufficient as possible. Consequently, Esprit D'Air record and produce their own releases in their own home recording studio, and books and promotes their own tours.
Esprit D'Air released their second album, Oceans in 2022, which included collaborations with members of the iconic gothic rock group The Sisters of Mercy and Japanese metalcore band Crystal Lake, plus remixes by Heavygrinder, and Shirobon. Oceans has received support and praise from Loudwire, Kerrang! Radio, as well as from members of Cradle of Filth, The Sisters of Mercy, Vallenfyre, and The Birthday Massacre. Esprit D'Air's most recent release saw the Japanese artist collaborate on a new version of the track 雫 ('Shizuku') in collaboration with Australian producer Misstiq.
Tickets for the Esprit D'Air "Leviathan Tour" are on sale now via www.espritdair.com
European Tour 2023:
10 October: BUDAPEST, Dürer Kert (HU)
12 October: BARCELONA, La Nau (ES)
UK-Ireland Tour 2024:
12 February:  BOURNEMOUTH, The Old Fire Station (UK)
13 February: EXETER, Exeter Phoenix (UK)
14 February: BRISTOL, Thekla (UK)
16 February: SWANSEA, Hangar 18 (UK)
18 February: WOLVERHAMPTON, KK's Steel Mill (UK)
19 February: SHEFFIELD, Corporation (UK)
20 February: MANCHESTER, Manchester Academy 3 (UK)
21 February: LIVERPOOL, O2 Academy2 (UK)
23 February: DUBLIN, The Grand Social (IE)
24 February: BELFAST, Oh Yeah Music Centre (NI)
26 February: LEEDS, The Warehouse (UK)
27 February: GLASGOW, The Garage (UK)
28 February: NEWCASTLE UPON TYNE, Northumbria University Student Union (UK)
29 February: NOTTINGHAM, Rescue Rooms (UK)
02 March: LONDON, The Garage (UK)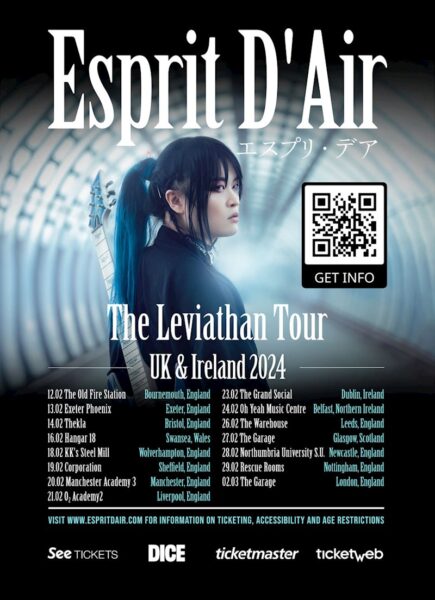 CONNECT WITH ESPRIT D'AIR:
. Official Website: https://www.espritdair.com
. TikTok: https://www.tiktok.com/@espritdair
. Facebook: https://www.facebook.com/espritdair
. Instagram: https://www.instagram.com/espritdairofficial
. Twitter: https://twitter.com/espritdair
. YouTube: https://www.youtube.com/espritdairofficial