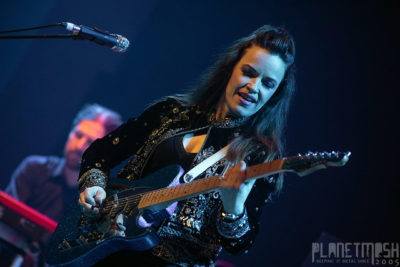 Tonight's midweek gig featured two great female blues artists – Erja Lyytinen and Chantel McGregor. Both acts were down to play the same length set so it's more a double-headline show than a normal headline and support show. It's the only show the two artists are doing together – the rest of Erja Lyytinen's UK dates are her own headline shows. As seems to be the case for virtually every show at the Stables, there's a good crowd tonight, with most seats occupied.
First up was Finnish guitarist Erja Lyytinen. She's often referred to as a slide-guitarist but that makes her sound as though that's all she can do when in fact it's just a small part of her talent. Despite the hour long set she has tonight, she doesn't play a huge number of songs as they're all quite long – she joked regularly to her band that each one was probably about seven and a half minutes. The songs don't feel long though – there's never a point where I felt a song had gone on for too long or lost it's way despite the extended jams or guitar solos. The long guitar solos worked well with the songs and demonstrated just how good a guitar player she really is. One solo in particular was not slide-guitar – instead it was the sort of shredding that any rock or heavy metal guitarist would have been proud of. Tonight's set included two songs from her forthcoming album ("Another world" – due for release in late April) – the title track, "Another world" and "Snake in the grass". Both the new songs sounded fantastic and I'm now looking forward to hearing the new album. Tonight's set ended with "Rocking chair" – the first time in the set where she really let loose with the slide guitar playing, and which involved lots of audience participation such as getting the crowd to count to seven – first in English, then in Finnish. Judging by the queue of people visiting the merchandise stand or talking to her after her set I think it's safe to say that she made plenty of new fans tonight.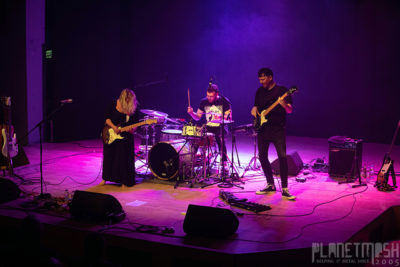 After a short interval it was time for Chantel McGregor. Whereas Erja Lyytinen's music is very firmly based in the Blues, Chantel's is more rock than blues. Yes there's a healthy blues influence but it's definitely blues-rock than blues. Like Erja Lyytinen she's a great guitarist – both have different styles but there's no doubting that both are very talented, and of course both sing as well as playing guitar. It's quite a lively set and songs like "Lose control" go down extremely well. They play one song which she tells the audience they've only actually played live once before – at their last gig (in January) so they'd been learning it again on the way to Milton Keynes. The hour-long set caused Chantel a few issues as toward the end of the hour she realised they'd got 10 minutes left and about 8 songs left to play, and one of the ones she wanted to play was ten minutes long by itself. She decided to end the set with "Lose control" and then do a much-shortened version of "April" as the encore (which came without the usual going off stage for a couple of minutes and coming back on). As with Erja Lyttinen there was a big queue for merchandise afterwards, so clearly both artists went down very well tonight.