Multi-award-winning, singer-songwriter, Elles Bailey to join Planet Rock to present a weekly show every Saturday launching July 2nd.
The genre-defying artist has powered her way to the forefront of the British blues and roots scene in recent years and was one of Planet Rock's most played new artists of 2021. Now the smoky-voiced singer is taking the radio mic for a new weekly show on the station.
On hosting the new show Elles said, "Planet Rock have massively championed my newest record "Shining in the Half-light" but to be offered this in the light of that is a huge honour. I feel chuffed to bits to be entrusted with their hallowed airways. I'm so looking forward to this new adventure, to getting to know the listeners and being a part of the Planet Rock team! Make sure you tune in for my first show on July 2nd for a massive hour of rock with a sprinkle of American-inspired roots."
Planet Rock's Music and Content Director Ric Blaxill said "I am delighted that Elles is joining Planet Rock. She lives, eats, and breathes music and is part of a new generation of artists bringing blues and rock music to a new generation of music fans. Elles is also a natural behind a radio mic so to bring her passion for music and her storytelling to the Planet Rock listeners only makes us stronger"!
In other news, Elles has been supporting Blues legend Walter Trout on his June 2022 UK Tour. She will also be supporting the living legend Don Mclean on his 50th Anniversary 'American Pie' Tour: Honoring the Day the Music Died (a 17-date tour, starting in Cardiff on 11th September and playing throughout the country until 4th October, ending at the London Palladium). See her website for more shows and festival appearances.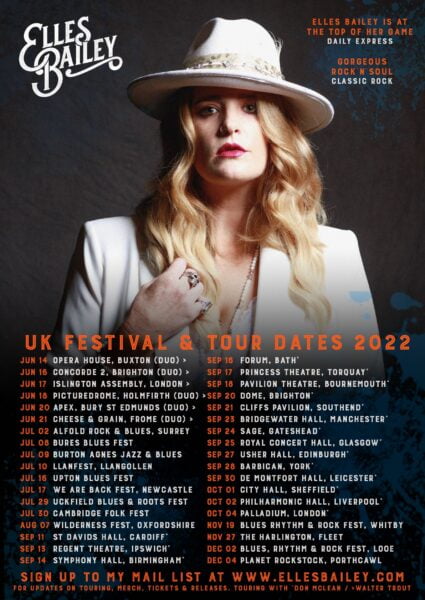 Make a date for Saturday 2nd July for the first instalment of Elles' new radio show on Planet Rock and check out 'Shining in the Half Light' for a sample of her own, rave-reviewed material.
You can tune into Elles new show on Saturdays from 12 pm on Planet Rock – planetrock.com
Website https://www.ellesbailey.com/
Facebook: https://www.facebook.com/ellesbailey/
Twitter: https://twitter.com/EllesBailey
Instagram: https://www.instagram.com/EllesBailey/