Swedish melodic rockers Dynazty come back fighting from the frustration of lockdown with their eighth studio album Final Advent, released via AFM Records on August 26th 2022. This self produced ten track monster falls mainly on their heavier side as lead singer Nils Molin admits "We decided to come up with the most cohesive, definitive album and version of ourselves yet. Game plan : No fillers, all killers".
It's a bold statement but they've proven that their aim is true as album opener 'Power Of Will' is power metal at its powerful finest as it rages in on rampaging riffing and earworm keyboards until it picks up more pace as the call to arms vocals are delivered with 100% conviction and a midsection of pulverising drums and lightning speed guitar solos see it finish with a bang, not a whimper!
'Yours' is an early album highlight and a surefire crowd pleasing anthem to be as a lengthy vocal intro is almost pomp rock as sweeping keyboards, striding riffs that precede razor sharp guitar solos that dazzle over a haunting outro vocal.
'Advent' sees Christmas come early as they present another heavy onslaught delivered with a gritted teeth vocal that hold the riffs back until they are unleashed with feral fury.
Another full on number that pulls no punches is 'Natural Born Killer'. A keyboard heavy intro segues into lighter stabs as guitars hold court over a lung busting vocal to make it a feelgood song, ending on a keyboard/guitar duel.
An old saying that "The devil has all the best tunes" rings true with 'All The Devils Are Here' as they lock in full throttle for a shout it out loud and proud delivery and a spotlight stealing vocal is outstanding!
'The White' is like being dragged into the eye of a storm as this kick drum driven headbanger picks you up and doesn't let you down until the sonic metal attack has subsided as a brief respite is a short bass solo until those dazzling twin leads light up the sky.
'Instinct' strangely sounds like 'Sehnsucht' by Rammstein in parts but to these ears it's no bad thing as it adds more bite but it's left standing by choruses that are like a rush of blood to the head.
There is nothing dark about 'Heart Of Darkness' as it spreads joyous love throught this grandiose groover, definitely one of the heavier songs to their armoury!
There is no weak parts to this song as 'Achilles Heel' is a full on slab of symphonic metal that swathes like royalty on a red carpet of a vocal that seems impossible to be.
One last pummel comes from 'Power Of Now' that heads out to the highway with enough power to light up your town. They don't mess with a winning formula of those histrionic vocals, tight rhythm section and bombastic guitars and keyboard overload!
Pre-purchase links to the Final Advent album and other band links are here :- https://shop.afm-records.de/dynazty/ I http://www.dynazty.com/ I https://www.instagram.com/dynazty_official/ I https://twitter.com/dynaztyband
Final Advent album track listing :-
Power Of Will.
Yours.
Advent.
Natural Born Killer.
All The Devils Are Here.
The White.
Instinct.
Heart Of Darkness.
Achilles Heel.
Power Of Now.
Dynazty band line up :-
Nils Molin – Lead Vocals.
Love Magnusson – Guitar.
Mikael Lavar – Guitar.
Jonathan Olsson – Bass Guitar.
Georg Harnsten Egg – Drums.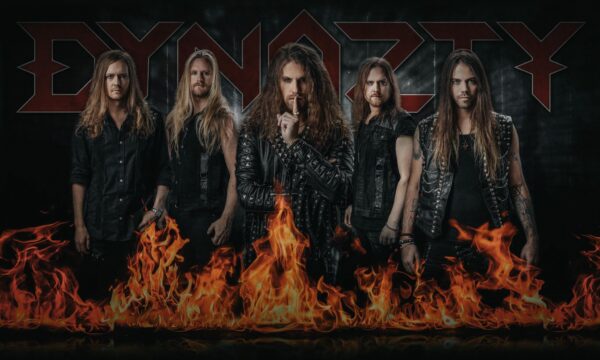 Swedish melodic rocks Dynazty fulfill their destiny with soon to be released new studio album Final Advent.