Domination inc are a Greek thrash metal band that formed in 2012 as Domination (the change to Domination inc is more recent due to legal issues with the name). They released their debut album "Infants of thrash" in 2014, and now five years on, they're ready to release their second album. Their debut album had a great old-school thrash sound and for this new album they've kept some of that feel while making it heavier and a bit more modern. They worked with former Septic Flesh drummer Fotis Benardo at Devasoundz Studios, and the mastering was done by Henrik Udd (Architects, At The Gates, Dimmu Borgir and many more).
Check out the video for the first single – "The Sickening"…
The Motorhead cover (Love me forever) is radically different to the original. It's good to see them trying something different with it rather than doing a straight cover. It's good but it's never going to be as good as the original.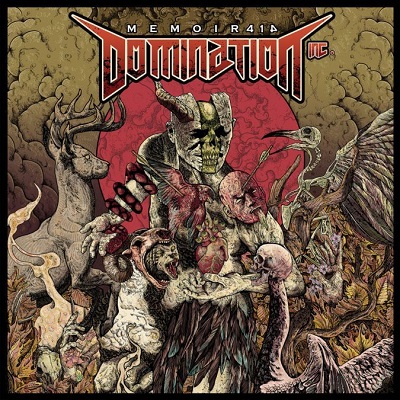 I think they've certainly succeeded in making this album better than their debut album. This is a really good heavy album but they've got plenty of melody still – some really catchy ones in fact, and it's an album they should be proud of. An excellent thrash album.
"Memoir" will be released on 23rd August 2019
Track listing:
1. Cutting edge
2. Day VIII: Deus' ignorance
3. The sickening
4. Dark city
5. Dehumanized
6. Crux, Nux, Lux
7. The Eye
8. Culling
9. Love me forever (Motorhead cover)
An excellent thrash album.