Introducing Dom Martin, the multi-award-winning Bluesman from Belfast
Leeds Blues Club is a somewhat new affair, hosting intimate Blues nights and located in its own room, upstairs above the main bar at The Cross Keys pub in Leeds, which is just a short walk from Leeds train station.
Our host is Rob, who introduces us to our evening at the Blues Club. Tonight is a seated affair, which is excellent as the show is sold out. Okay, a few people were standing at the back but you could still enjoy a great view from all around the room.
Getting up close and personal with Dom Martin
Belfast City's own has come a long way since the days of playing pubs with crowds talking over him. Tonight sees Dom Martin getting the respect he deserves as an acclaimed Blues performer, who's won himself an award two on his musical journey.
Gleefully taking to his seat, Dom welcomes himself and his audience and tells us how his day went today and his meeting a lonesome rock thrower on his way here. Which makes for a great crowd response later during the show. Dom has met quite a few characters in his time, especially during his days of addiction and is candid about his life so far and doesn't hold back, the stories make for intriguing listening.
Opening his set with a redemption song, by one of his main influences Rory Gallagher Could've Had Religion, this blues romper sets the pace. Now don't think of Dom Martin as a covers man, he prefers to say he's paying tribute to musicians that have inspired his musical journey.
Choosing a mix of covers and his original songs gives Martin the freedom to express himself, and we get to experience his showmanship in both areas.
Asking if anyone has struggled with addiction, we respond with 'No, we just throw stones' We're shy!
Going way back to the 60s a song that grabbed Dom's attention is Railway and Gun. I like how the song is less 'twinkly' on the guitar than the original as we're given Dom's take on the song.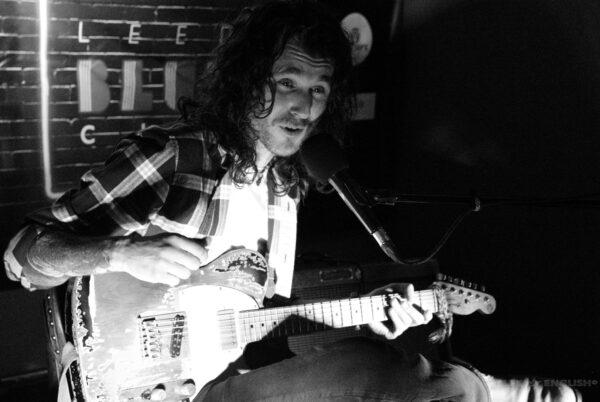 No pressure here
I've never seen a crowd so silent, and when I was taking photos for this review, I was sure the whole room could hear my camera shutter clicking away. I think Dom appreciated the quiet, as he could focus more and you got to see him really getting lost in his performance.
The deep country blues vibes on Easy Way Out from his Spain to Italy album opens with its sassy lyrics 'You've got champagne taste and beer pockets my friend' Dom's voice harmonises through the hushed air as his hard strumming brings up the pace on this we are all screwed number.
I notice the sound hole of his guitar 'says hello in there' I like that. The crisp clean intro of Echoes from A Savage Life welcomes you in. , Dom's vocal is less gritty and the pace is softer. It reminds me of Eddie Vedder and his Into The Wild album.
This is the second time I have got to see Dom, and boy does he make 'finger plucking' look easy, especially on Hell For You, infused with classic blues riffs, his soft mellow harmonies pull you into this tale of warning!
Living the high life
Let's go back and share some of the stories of the night. One about living in a loft sticks in my mind. Dom recalls the time unbeknown to his friend at the time, he spent three months living in his loft, where he wrote many a tune. And to elevate the boredom in between, he re-arranged the house furniture. The friend did find out eventually but all was forgiven. One of the songs to come out of that period was The Rain Came. Pouring out his blues heart, this western-style blues shimmers with hardiness.
Stick your Strat
After taking a break Dom returns to his stage. And recalls the time he was approached by a guitar manufacturer after his tour with Eric Gales. Asked what guitar he would like, he holds aloft his telecaster and says, I'm a 'tele guy', 'imagine if Rory's stat was always a telecaster' – that's what I want.
Picking up his acoustic guitar for Dealer, the sharp chords resonate with the change of vocal octave, Dom's voice goes gruff, as it meets the pace and the vigour of the solo riffs, as his well-oiled fingers meld into the verse.
Met with rapturous applause, Dom thanks his audience and revels in the fact that we sat in silence for so long and says if it wasn't for you…
Closing with my favourite and one of the first songs Dom penned is Blues On The Bay. Smouldering with contemplative lyrics. If you are looking for Blues Inspiration, this is the song to look at.
You can catch Dom Martin in Leeds again at the Irish Centre, on July 2nd with his full band.
For more photos go here – https://flic.kr/s/aHBqjAyn7K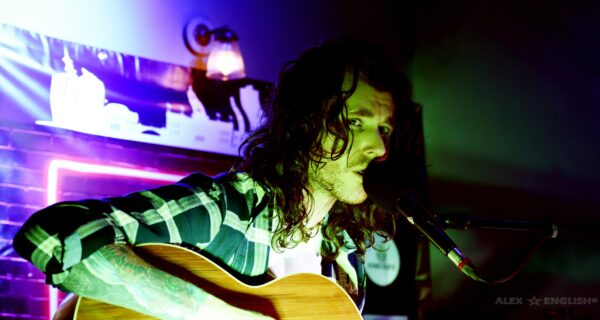 Setlist:
Could've Had Religion (Rory Gallagher)
Railway and Gun
Intro-Easy Way Out
Echoes
Cavatina – Out On The Western Plain
Jazz Intro – Should've Learned My Lesson
Hell For You
Easy Blues
Last Train and Ride
The Rain Came
Dealer
Bankers Blues
Blues On The Bay
Band – Dom Martin – Vocals and guitars
Links – https://www.facebook.com/MusicDomMartin
Words and Photos by Alex English