Norwegian art rock/pop outfit reveals writing of third studio album has begun, confirm 2023 live shows and make live clip available

Amid preparations for a busy period of live appearances, Oslo-based art rock/pop outfit Dim Gray have also begun work on a new album for release in 2024. It will be the follow-up to the widely acclaimed 'Firmament', released in September 2022.
"Playing live last year for the first time outside of Norway really helped us develop as a band and we expect that to have an influence on the next album," states drummer Tom Ian Klungland. "There was a significant progression between our debut, 'Flown', and 'Firmament', so our aim is to maintain that trajectory."

Hinting that the new record is likely to be more guitar-based than previous releases, with stronger folk influences, guitarist Håkon Høiberg reveals that "while certain elements are part of Dim Gray's musical DNA, we have no interest in making the same album twice. It's exciting to hear how our writing is developing. As well as some more concise tracks, we've also been working on a song that will comfortably be the longest Dim Gray have ever written!"

The group are also pleased to confirm that their forthcoming UK performance in Leicester (27th May, as part of a Marillion weekend), plus the Scandinavian Prog At Sea cruise (5th-7th May), 2Days Prog +1 festival in Veruno, Italy (2nd September) and also supporting Big Big Train on their European tour (August-September), will see the return of regular live personnel Milad Amouzegar (guitars and keyboards) and Kristian Kvaksrud (bass). The schedule will conclude with three UK shows.

Lead vocalist and keyboardist Oskar Holldorff adds: "We are delighted to welcome Milad and Kris back out on the road with us. We had such a good time with the guys as part of our live set-up last year. I know fans will be equally pleased to see them."
Holldorff has also recently joined Big Big Train as a band member.
A short film of the band in live-action in 2022 can be viewed HERE .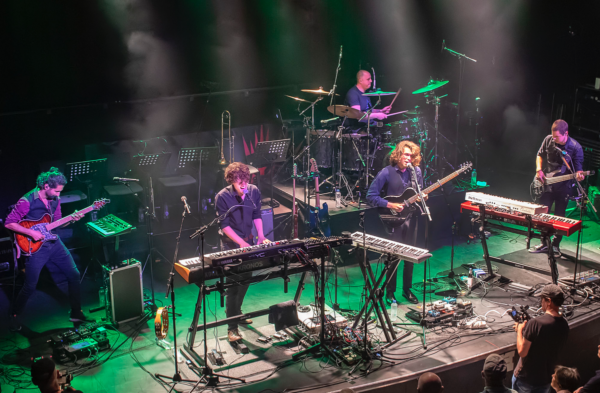 DIM GRAY | 2022 live photo by Michael Heller
DIM GRAY  |  LIVE 2023
05.05.23-07.05.23  OSLO (NO) – COPENHAGEN (DK) Prog At Sea Cruise
27.05.23  LEICESTER (UK) De Montfort Hall (Marillion Weekend)
26.08.23  ZOETERMEER (NL) Cultuurpodium Boerdereij *
27.08.23  HAMBURG (DE) Markthalle *
28.08.23  GOTHENBURG (SE) Stora Teatern *
29.08.23  OSLO (NO) Cosmopolite *
30.08.23  STOCKHOLM (SE) Fryshuset Klubben *
31.08.23  COPENHAGEN (DK) Viften *
02.09.23  VERUNO (IT) 2Days Prog + 1 Festival
03.09.23  BASEL (CH) Z7, Pratteln *
05.09.23  REICHENBACH (DE) Neuberinhaus *
06.09.23  COLOGNE (DE) Carlswerk Victoria *
07.09.23  ASCHAFFENBURG (DE) Colos-Saal *
08.09.23  STUTTGART (DE) Mozart-Saal *
10.09.23  EDINBURGH (UK) Queen's Hall *
11.09.23  BIRMINGHAM (UK) Town Hall *
12.09.23  LONDON (UK) Cadogan Hall *

* as special guests of Big Big Train 

Tickets available via Dim Gray official site

DIM GRAY
FIRMAMENT
the acclaimed album
out now
(English Electric Recordings)

"Majestic and wistful, 'Firmament' is a sweeping, beautiful journey. Dim Gray deserve their moment in the sun"
PROG
"A beautiful album bursting with musicality and a treasury of exquisite songs to soften even the hardest of hearts. Exceptional *****"
GET READY TO ROCK!
"This band have elevated themselves to another level entirely. A magnificent achievement"
PROGRADAR
"With influences from the classical and cinematic oeuvres, this represents arty pop at its finest"
AT THE BARRIER
"Symphonic pop splendour and a shiny diamond of a record"
TURN UP THE VOLUME

buy CD | LP | digital stream Spotify | Apple Music | Amazon Music
Presenting twelve vivid, direct and melody-driven songs, 'Firmament' is bursting with life and colour and leads listeners through an intricate recipe of lush electronics, strings-infused chamber pop, evocative indie-folk and grandiose art rock. An ambitious artistic statement, the album will appeal to fans of artists such as Radiohead, Steven Wilson, Beach Boys and Agnes Obel.

Dim Gray is comprised of guitarist Håkon Høiberg, singer/keyboardist Oskar Holldorff and drummer Tom Ian Klungland. Formed in Oslo when all were studying, all three members have contrasting musical backgrounds in genres as diverse as black metal, rock, blues, folk and film music, but the fusion of all these influences has created their own distinctive sound.

Their debut album, 'Flown', was released digitally in 2020. A concept work that intertwined song narratives to deliver a continuous story relating a vivid tale of loss and loneliness so relevant to that time, it offered beautifully quiet, intimate moments offset by huge, colourful soundscapes. It was subsequently released on 2xLP and CD formats in 2021, receiving rave reviews.

DIM GRAY – 2022 publicity photo by Emil Vestre
DIM GRAY
(left to right above)
Oskar Holldorff – vocals, keyboards
Håkon Høiberg – guitars, vocals
Tom Ian Klungland – drums, vocals

official site