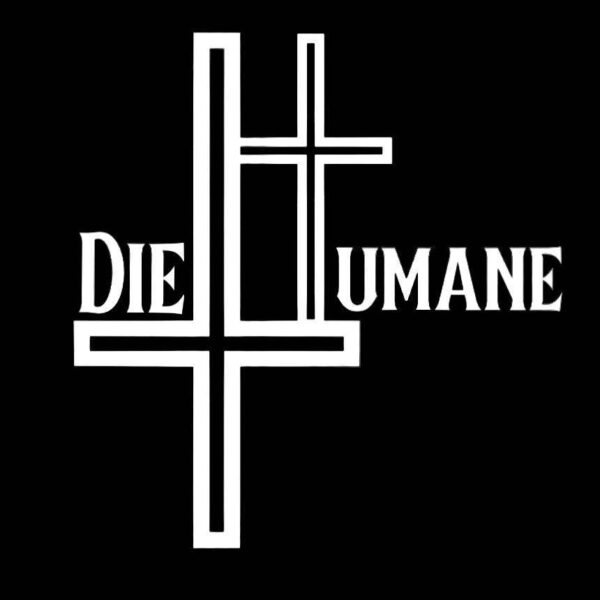 Rick Hunolt returns as he joins brand new band DieHumane, describing themselves as "Avant garde, blending elements of metal, industrial, jazz and blues". It's a far cry from when Rick was playing guitar for Exodus, my favourite thrash metal band ever but I'm really liking the path he's taking with Die Humane, point proven by their debut album The Grotesque, via Ulrich Wild's WURMgroup label.
These ten tantalizing tracks shimmer as the album opens with 'Oblivion'. An eerie tolling bell like intro chimes over an almost whispered vocal until it bursts into life when the vocals soar, backed by doom laden riffing until it closes on sedate keyboards, wirey guitar lines and a Hellish outro.
Bubbling bass guitar heralds the arrival of 'Crossroads' as a shivering lead vocal and snappy finger clicks pick up the pace for caustic choruses and a Zappa like outro.
'Shell Shock' lives up to its title as this lumbering beast of a song pulses with electronica, schizophrenic vocals and riffs of tectonic plate shifting power, closing on a death metal dirge.
'Epitaph' sucks six minutes of your life out of you as this is an epic to end all epics as it lulls you into a false sense of security with ethereal tones that ooze through your ears.
'King Of Nothing (The Bruiser)' is a pulverizing industrial grind, more earworm electronica, lung shredding vocals and guitars set to kill levels.
'The Executively Disfunctional' is short but a still raging number that needs exorcising to unleash the demons within.
An almost angelic like performance for 'Standing At The Edge Of Forever' hypnotizes with sparse drum patterns.
'The Descent' ascends, not descends on quaint orchestral manouevres.
'Ghosts' sees a stadium filling lead vocal steal the spotlight, backed by a rock solid rhythm section that locks in tight for a thrilling ride.
This stunning album closes on 'Death Knell' for a headphone rattling half minute of bleak sounscapes to make for a truly unnerving but also rewarding listen.
Purchase link to The Grotesque album and other band links are here :- http://www.wurmgroup.com. /https://www.facebook.com/diehumane / https://www.instagram.com/diehumane/ /https://twitter.com/diehumaneband / https://www.youtube.com/results?search_query=die+humane
The Grotesque album track listing :-
Oblivion.
Crossroads.
Shell Shock.
Epitaph.
King Of Nothing (The Bruiser).
The Executively Disfunctional.
Standing At The Edge Of Forever.
The Descent.
Ghosts.
The Death Knell.
Die Humane band personnel :-
Garret West – Lead Vocals.
Rick Hunolt – Lead Guitar.
Sal Abruscato – Drums.
Joshua Vargas – Bass guitar/rhythm guitar/piano/keyboards/programming.
Greg Hilligiest – Keyboards/Programming/Additional guitar.
DieHumane are far from grotesque as they release their debut album The Grotesque.