Diamond Head gives LIGHTNING TO THE NATIONS a brand new lease of life for its 40th-anniversary celebration. Firing up the belly of the beast for a new generation.
If you've never heard of Diamond Head keep reading… The dramatic powering of LTTN2020 will instantly draw you in with its pulverizing drums, and electrifying guitar solo's from the main riff man Brain Tatler. Charged with edgy bass lines and breathtaking metal vocals from Rasmus Bon Andersen. Diamond Head has kept to the traditional stylings of the original Lighting To The Nations, whilst giving it a sleek makeover. Having some fun they have included four bonus covers.
Lighting To The Nations has quite a history from its humble beginnings. Take four young British heavy metal enthusiasts whose aim was to make the best Heavy Metal music on the planet by trying to out-write and out-riff the competition of the other bands on New Wave of British Heavy Metal (NWOBHM) scene from Iron Maiden, Deep Purple to Black Sabbath, to name a few.
The early days saw founding member/guitarist Brian Tatler rehearsing with his band back at his family home in the mid-70s. In 1980 Diamond Head unofficially release Lighting To The Nations, with a limited run of a 1000 vinyl copies, which were available via mail order or at their shows. There was no artwork on the album sleeve, nor any tracklisting not even a band or title name and thus it became known as 'The White Album'.
After releasing a remastered CD version in 2011 with seven bonus tracks. I was curious why the band would re-record a classic album that has influenced many aspiring bands since its first release.
Diamond Head is a band who go the extra mile to deliver their best stage show including the arrangement of their songs.  Having various lineup changes has attuned to that and in 2014 vocalist Rasmus Bon Andersen joined DH to bring new energy to the band.
Music is a living piece of work, even after being recorded. When you think about it, the versions you hear Diamond Head play live now have grown since their conception. The live performances you see on stage showcase the artist's vision, whilst meeting the expectations of the fans. The original early versions might lack some of the gloss, whilst others may argue the opposite and feel the original 80's versions sounded better.
Something old, something new, something borrowed…
Reworking Lighting To The Nations 2020 has given DH something exciting in the form of a new platform to showcase their creativity especially on the four covers they have included on the 2020 version: Judas Priest's 'Sinner', Led Zeppelin's 'Immigrant Song', Deep Purple's 'Rat Bat Blue' and a stunning take of Metallica's 'No Remorse'.
Sliver Linings
From its pivotal core LTTN2020 has evolved into a creative production, masterfully building on the crescendo of indisputable riff after riff to deliver an epitome of re-worked classics. The wrecking assault of drums rides the way on album opener Lighting To The Nations. I bet drummer Karl Wilcox wouldn't have imagined himself as a permanent piece of history.
The clever mastership of production is part down to Rasmus, with his keen ear and razor eye for detail giving the sound growth and the zing it didn't get the first time around, due to money, resources and lack of technical development.
Mono sounds have been ebbed out and the stereo has been well truly turned up to 11. Bringing in a more wholesome, sharper vibe. The vocals now stand affront of the music.
But has this played in the favour of DH? It's Electric is a great example of how the lighting bolt has struck a new chord, kudos should be given to its new bolder counterpart.
The opening chimes of Am I Evil? reminds me of the ice-cream van calling…as the da-da-da-dah tension builds then falls into a steadfast pace. You know of its arrival and your order is double horns. Just when you thought the party was over a plethoric 1min 25secs has been added toward the end, grabbing you by the jugular for an epic final, pulsating metal assault.
It's no surprise Lars Ulrich took an instant liking to Diamond Head when he first encountered the band in their early days. Seeking out and going on to go cover, not one but four DH songs with his band Metallica.
As a fitting tribute DH, play their hand covering No Remorse.
"I wanted to cover a song from Metallica's debut album, Kill 'Em All" explains founding member Brian Tatler. "Partly because Metallica covered songs from Diamond Head's debut album Lightning To The Nations and it felt like things have come full-circle to me"
Diamond Head continue to be one of the main influencers of the NWOBHM, something without a doubt their iconic history will carry forward. Inspiring many more upcoming future bands who look back to the pioneers from that era.
A few facts about Lighting To The Nations:
Back in the day, 40 minutes was the most you could record on an LP hence it been only 7 songs long
Brain Tatler took the name Diamond Head from a Phil Manzanera album poster (Roxy Music, guitarist) Diamond Head
Metallica has covered four Diamond head songs – Am I Evil?, Helpless, The Prince, and It's Electric
Drummer Karl Wilcox went from a fan watching Diamond Head in 1979 to band member in 1991
The tracklisting of the White Album – side 1 – Lighting To The Nations, The Prince, Sucking My Love – Side 2 – Am I Evil?, Sweet and Innocent, It's Electric, Helpless
Lighting To The Nations (1980) was recorded over 7 days with all the band in one studio room at The Old Smythy Studio in Worcester.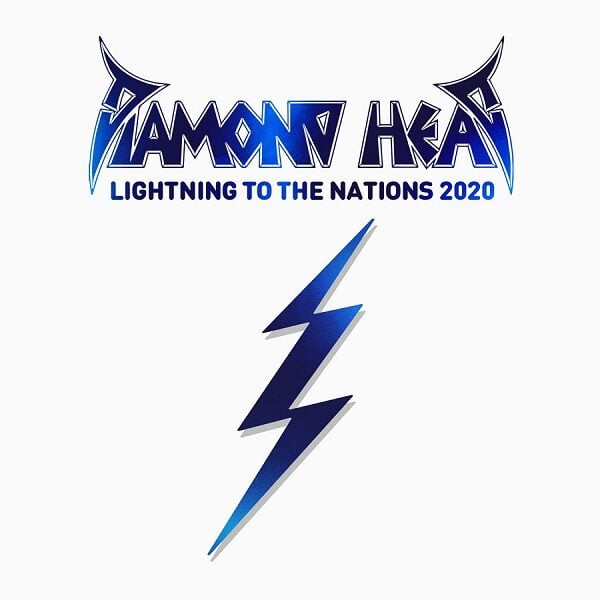 1. Lightning To The Nations
2. The Prince
3. Sucking My Love
4. Am I Evil?
5. Sweet And Innocent
6. It's Electric
7. Helpless
8. No Remorse
9. Immigrant Song
10. Sinner
11. Rat Bat Blue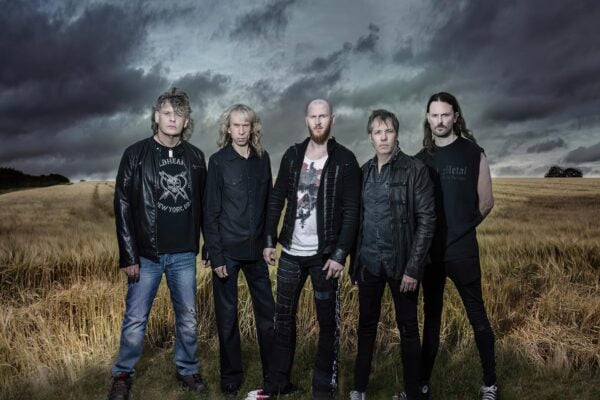 DIAMOND HEAD is:
Brian Tatler / Lead, rhythm guitars
Rasmus Bom Andersen / Vocals, orchestration, additional guitars
Karl Wilcox / Drums
Andrew "Abbz" Abberley / Rhythm, lead guitars
Dean Ashton / Bass, organ
LTTN2020 has evolved into a creative production, masterfully building on the crescendo of indisputable riff after riff to deliver an epitome of re-worked classics.