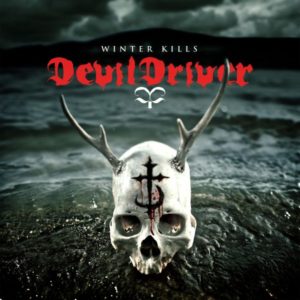 Winter Kills, is the 6th full length studio album from Devildriver. Vocalist Dez Fafara describes the album title as "All about rebirth". After the first listen it made perfect sense as I thought their last two releases 'Pray For Villains' and 'Beast', found them treading water compared to the all out assault of their third album 'The Last Kind Words'. Fear not as 'Winter Kills' is a real return to form with a seemingly endless torrent of riffs during its 50 minute length and Dez gives a truly lung busting vocal performance. Winter Kills is available now and is their first release on Napalm Records and what a fine way to start their relationship together!
Winter Kills contains 11 tracks of blistering metal. It begins with the slow burning thud of Oath Of The Abyss with a rasping vocal from Dez. Other highlights from the 11 tracks are Ruthless with an intro similar to the beat of The Beautiful People by Marilyn Manson but the similarities end there as the marauding main riff cuts through.
Desperate Times has an intense buzzing main riff punctuated by speed metal guitar passages. The title track is a contender for track of the album containing an almost orchestral barrage of riffs churning against each other.
After an almost melodic thrash metal intro to The Appetite it hurtles into a mid paced chugger with some pounding kick drumming from John Boecklin. Curses And Epitaphs comes across as a slightly slower version of These Fighting Words from The Last Kind Words Album with yet more scything guitar lines weaving in and out of the main riff. Caring Overkill is another slow burner with an avalanche of slamming riffs over Dez's simmering rage vocal delivery.
Album closer is my highlight of Winter Kills. A cover version of Awolnation's track Sail, is probably the closest thing that Devildriver have done close to a ballad, but is still hard as nails. The only word I can think of to describe it is majestic, as Dez gives an almost spoken vocal over a stabbing riff that had me hitting the repeat button immediately.
Winter Kills is one of the most intense albums I have heard this year, any of the 11 songs will slay when played live.
Track listing –
Oath Of The Abyss.
Ruthless.
Desperate Times.
Winter Kills.
The Appetite.
Gutted.
Curses And Epitaphs.
Caring Overkill.
Haunting Refrain.
Tripping Over Tombstones.
Sail.
Devildriver band line up:-
Dez Fafara – Vocals.
Mike Spreizer – Guitar.
Jeff Kendrick – Guitar.
Chris Towning – Bass guitar.
John Boecklin – Drums.
Links:
www.facebook.com/DevilDriverOfficial1