Deservedly still in the Big Four of German thrash metal, Destruction have no intention of losing that position with their fifteenth studio album Born To Perish, released via Nuclear Blast Records. As if the band were not already heavy enough, they have bolstered their attack even more with two new members. An extra guitarist Damir Eskic and drummer Andy Black (replacing Vaaver) who join the dynamic duo of Mike Stringer on guitar and Marcel 'Schmier' Schirmer on bass guitar/lead vocals.
Forming in 1982 in Weil Am Rhein, the band have never wavered from their roots by confounding fans with dips in form but have steadfastly thrashed away with aplomb, point proven by the title track. It's an insane snare drum driven number as the mauling riffs herald the inimitable broken glass gargling growls of Schmier and from the off that second guitar makes them an invincible force! There is no let up in pace as the riffs during 'Inspired By Death' flew around my headphones for a thick and fast dense fog of brutal thrash with raging twin lead guitar work midway. 'Betrayal' is a musical vortex that adds menace to the vocal tirade.
'Rotten' takes its foot off the throttle for a pedestrian pound as 'Filthy Wealth' is a glorious gallop of seismic grooves backed by wrist snapping snare work, fretboard burning solos and topped off with a paint stripping vocal. 'Butchered For Life' is almost balladic as Schmier delivers with a laid back evil glee as the music shifts from slow passages to pit opening workouts. 'Tyrants Of The Netherworld' is a hot rails to hell ride of speed metal at its finest. Buzzsaw like riffing will get the air guitars out for 'We Breed Evil' and another superhuman drum assault make it my album highlight.
'Fatal Flight 17' is a kick drum driven turbocharger with guitar solos that fly out like angry hornets and this viscerally no compromising album ends with the venomous 'Ratcatcher', all taking no prisoners thrash metal. Long may Destruction reign supreme!
Born To Perish album track listing :-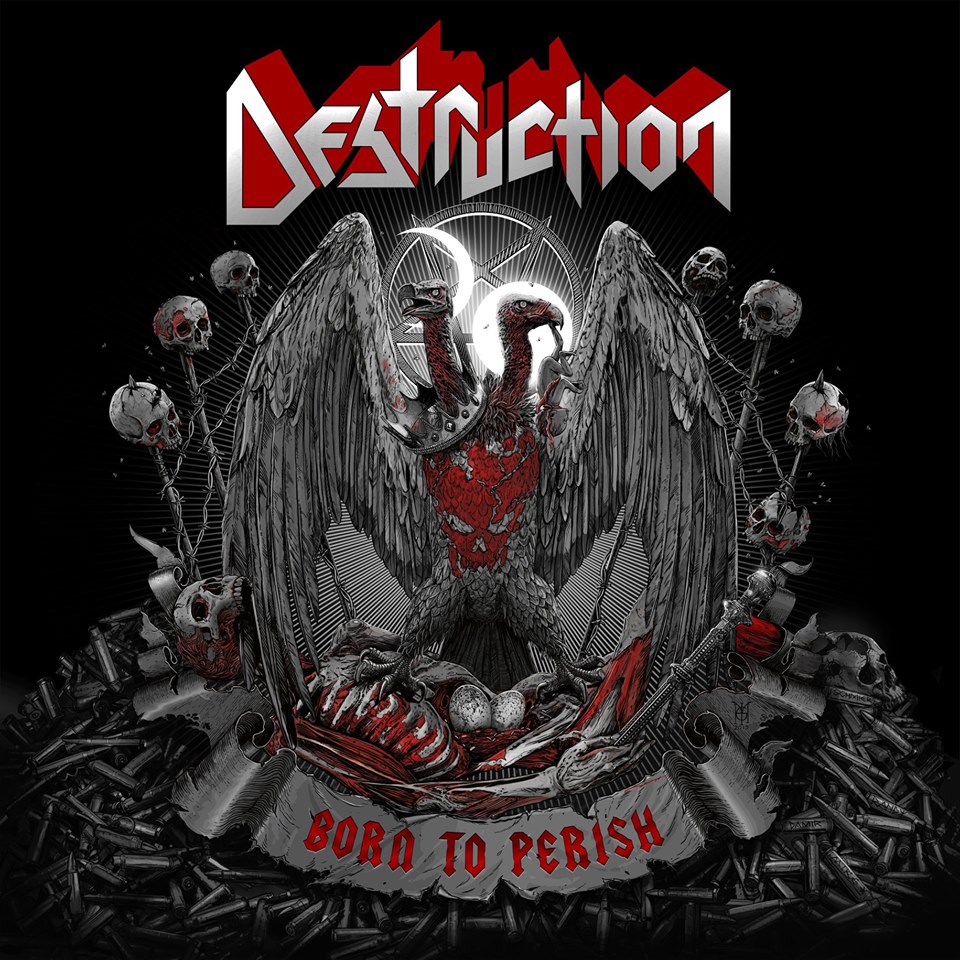 Born To Perish.
Inspired By Death.
Betrayal.
Rotten.
Filthy Wealth.
Butchered For Life.
Tyrants Of The Netherworld.
We Breed Evil.
Fatal Flight 17.
Ratcatcher.
Destruction band line up :-
Marcel 'Schmier' Schirmer – Lead vocals/bass guitar.
Damir Eskic – Guitar.
Mike Stringer – Guitar.
Randy Black – Drums.
Destruction show no signs of self destructing with these ten slices of wrecking ball thrash metal.