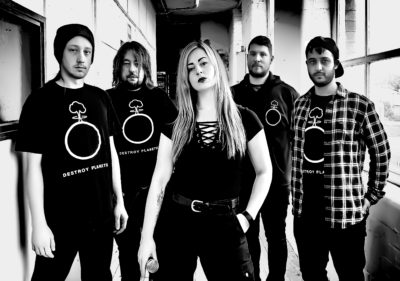 Brit noisemakers DESTROY PLANETS! are set to rise with the release of their new EP, Mass X Gravity, out on Friday 23rd August. The band have also just dropped a new single, Absolution – https://youtu.be/n5rdF-onGb4 , which is out now. We chatted to the fivesome about their beginning and more….
What is the full band line-up, who sings and who plays which instrument?
We are a 5 piece, consisting of Tanya the green haired wacky vocal girl. Aaron and Nathan are the guitarists. We have Brad on the Bass and Adam on the drums & samples.
How and when did the band form? Tell us anything interesting about your hometown.
We are all from previous bands where things weren't quite working out. We found each other on a join my band website finally and decided to cut all our ties and start again. So we have our stringers from Rochdale (consecutively rated in the top ten worst places to live in the UK!). Our singer and drummer is from Glossop (league of gentlemen maaate).
When and how did the band really start gelling and solidifying?
We spent a good two or three years writing our content to begin with! We finally found our now singer at a festival back then, Tanya hadn't been in the band before but she had that raw talent when it came to the crazy vocals. So, we took the time to get the right music whilst Tanya learned the rules of the game. Aaron then booked a gig without us knowing, it forced the issue and it was definitely something we needed. By the time we were all ready, Tanya was a beast, the only downside is we have to constantly record her as she's always improving!
Who are your musical influences?
Trivium plays a big part in our influence for our guitarists. They are also really influenced by Andy James. Tanya enjoys a myriad of influences; she loves everything from Britney Spears all the way to Oteph and Lesbian Bed Death! The drummer is influenced by the likes of the raw energy of the first Slipknot albums and death core bands like Emmure. Adam also works on the production of some of the music, and he's influenced by the likes of electronics, dubstep and anything that sounds filthy. We are always trying to incorporate as much of that as possible for new directions in our music. Bass Bombs yes please.
In your opinion, how is your band different from all the other bands out there?
We are trying to find that new sound by mixing as much of our influences as possible. We throwdown, we dubstep, we thrash, we djent, we dance anthem, and we try to do whatever else we can dream up. We try to make each song as different as possible; we don't really want to fit a particular sub-genre. We are a mix and match of metal, electronica and mentalness. Topped off with the occasional cheeky video game sample or catchphrase. Also, we have air horns. Lots of them.
If a deaf person were to ask you to describe the sound of your music, how would you describe it?
Raw energy, 100% commitment and passion to what we do and spine-tingling shivers.
Where can we find your social media sites?
You can catch us on our website, Facebook, YouTube and Instagram.
https://www.facebook.com/destroyplanetsband/
https://www.instagram.com/destroyplanets/?hl=en
https://www.youtube.com/channel/UCnBONSeIis1FZY1RQm6OuqQ