Polish death metal stalwarts Decapitated return with their 8th full-length album "Cancer Culture"
After the somewhat disappointing "Anticult" released in 2017, it is going to be interesting to see how they come back after 5 years… Cancer Culture is a much, MUCH better offering! Where the former really trod in the extreme end of "Groove Metal" territory, this is much more technical death.
With only one original member, and band mastermind Vogg now also part of Machine Head, I'm sure some of you must be thinking has that influenced him? The answer is somewhat, and no! This is most definitely a Decapitated album!
Relentless…
Starting with a short instrumental based around a martial snare roll, this segues into the title track and its off out the blocks like a greyhound with a Saturn V on its back.. Violent drumming smashes you about the ears with all the subtlety of a concrete block. The blasts are relentless, as vocalist Rasta roars like a rutting Tyrannosaur over them. There is a subtle let up with a melodic whispered bridge at several points, that juxtaposes the violence of the riffs nicely.
Onto "Just a Cigarette", and you will likely be needing one after it to calm your nerves, or post orgasmic state. Once again the drumming is on fire, and the riffs slice like a very big and sharp cleaver. However, this band are not scared to inject melody and more restrained bridges into this track.
Had that smoke? Good, as you will be needing to reach for the most potent alcoholic drink you have available as "No Cure" slams into you. Another track with insane blast beats pretty much from beginning to end, it also boasts some really technical riffing and drum patterns that you may not pick up on at first listen. Vogg really showcases his technical abilities on this track.
Guest vocals time!
Yes, we now have two tracks featuring some rather special guest vocalists. First up is Tatiana Shmayluk from Jinjer on "Hello Death" Again, this track starts like the impact of a shell from a battleship gun. BLAM and you're picking yourself up from the floor. A minute in and we are greeted with the beautiful clean vocals from Tatiana, which caress you after the bludgeoning before. It may be seen as a gimmick that extreme bands are having a guest female vocalist on their tracks, but this is far from that. Tatiana's contribution makes this for me the standout track on the whole album.
"Iconoclast" has a possibly more predictable guest. Do you know that other little band that Vogg is a member of? Yep, it's Robb Flynn of Machine Head on this one. I'd say that this is possibly the most commercial sounding track on the album, without letting up on the brutality. Much like Tatiana on the previous track, Flynn's vocals are clean and melodic and give a perfect counterpoise to Rasta's gruff roar. The double kick drums on this one are fantastic by the way!
Heavier and heavier…
As heavy as this album is already, it's notching up a gear with "Suicidal Space Programme" – the longest and most technical track on the album. Some great guitar solo work on this particular one, before we hit the shortest track.
"Locked" is a 1minute 17-second blast of pure rage – yet still maintaining groove and subtle melody. It's positioning between the previous track and the following adds to its impact.
"Hours as Battlegrounds" is slower, and more brooding than the others. It carries an air of menace about it that shakes you hard. Like the rumble of an advancing lava flow, it oozes at an inexorable pace toward you.
Appropriately the final track is entitled "Last Supper", and features possibly Vogg's best ever guitar solo. A slightly slower track again, this one has big melodies that wash over you like waves from a warm sea. It feels great and you do not want it to end… and then it does quite abruptly! rather than allowing the track to fade out, this sudden end, leaves you asking "Is that all?!". Unfortunately, this is so, but an album that leaves you thinking that is one that deserves repeated listens. I must mention James Stewart's prowess on the drumkit at this point too, as it underpins the fury and venom of this release.
And on that note…
I have to admit, that on my first listen to this album, I was not particularly blown away. Yeah, it's good, well played etc, but I was somehow expecting more. However, on a more focused second listen, I heard those bits I missed the first time, and I'm glad that I did before writing this.
Decapitated has delivered a ridiculously strong album here, and one that is still definitely THEM. I urge you to do as I did, and give it a coup[le of listens before judging it.
The 5-year wait between albums has definitely been worth it, and I'm sure those of you who have seen them play recently can attest to that!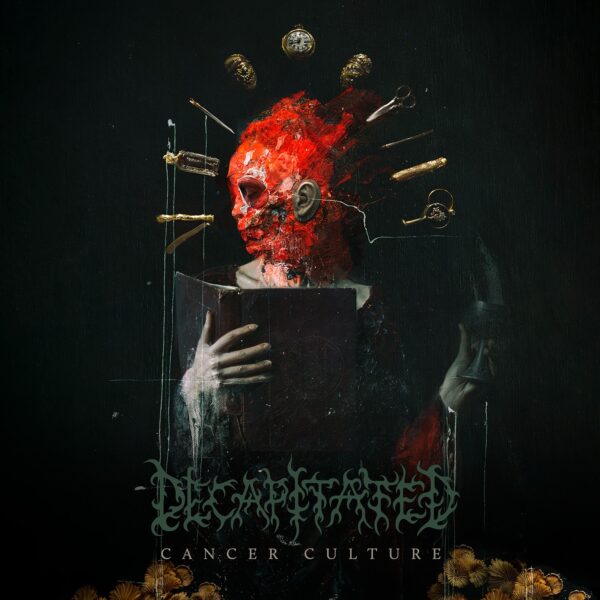 Track Listing
01 – From The Nothingness With Love
02 – Cancer Culture
03 – Just a Cigarette
04 – No Cure
05 – Hello Death (featuring Tatiana Shmayluk)
06 – Iconoclast (featuring Robb Flynn)
07 – Suicidal Space Programme
08 – Locked
09 – Hours as Battlegrounds
10 – Last Supper
Formats
Cancer Culture is available as standard CD, Digipack CD, and several different vinyl LPs and is released on 27th May
Links
https://www.nuclearblast.com/uk/catalogsearch/result/?q=Decapitated
https://www.facebook.com/decapitated/
https://www.instagram.com/decapitatedband/

Decapitated have delivered a ridiculously strong album here, and one that is still definitely THEM. The 5 year wait between albums has definitely been worth it, and I'm sure any of you who have seen them play recently can attest to that!