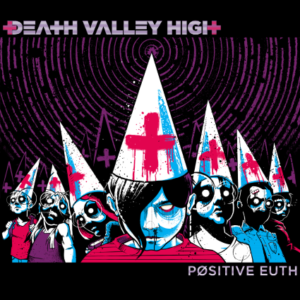 San Francisco's self-proclaimed "doom pop" merchants Death Valley High follow up their acclaimed 2011 album with more tracks of a deliciously dark nature on Positive Euth. Death Valley High's second album is a heady mix of Marilyn Manson meets NiN meets Rob Zombie meets My Chemical Romance and Placebo. That may seem like one helluva lot to take in, but their punkish industrial electronic rock carries degrees of new romantic notions and gothic musings to fine effect.
From the first few bars of intro track Bath Salt Party I actually thought I was listening to something Slipknot inspired and I suppose to a degree the track does have that aggression but the further it goes it's more like a swift kick of Reznor-esque musings. It's a track that instantly grabs you and sets the tone perfectly for how the album opens up.
The Present brings us into Manson territory and it's groove and style is very reminiscent of Beautiful People crossed with a Queens of the Stone Age punkish vibe. For me it's one of the highlights of the album. Single How2Kill brings back that Nine Inch Nails feel with a real new romantic under current in its electronica fuelled melody as it gallops along before Commit to Knife draws you into its darkness with an evil pounding riff.
Cinema Verité shows the versatility of the band to its full extent with complex timings and, for want of a better turn of phrase, the feel of a ballad to it. I would say power ballad, but done Death Valley High style! They return to form with the industrial Undead Eat Lead before hitting some hauntingly melodic keys in A Little Light Conversation. Sitting two thirds through the album now and it's safe to say they're certainly living up to their "doom pop" label. You could say they're commercial but their dark musings and industrial-electro rock swings stop them from straying too far into that cliched territory.
Their sound and style would sit perfectly as a soundtrack to some dark horror flick. It feels full of doom and gloom but it's chock full of an aggression that has a real punkish feel. Fingernail Marks is a perfect example of this, it also brings to mind the kind of track that Faith No More would pull out of their hat back in the day. Final track Re-Animation closes out the album bringing us a little bit of everything that Death Valley High are capable of with a real commercial sounding chorus, mixed with electronica and spiky guitar work throughout.
It's clear to hear from this album that Death Valley High are very comfortable in their own unique groove.  I've said it plenty times above but this album is indeed deliciously dark and aggressive rock that those of you with a love of the likes of Manson, NiN, Rob Zombie and their ilk will lap up.  An individual band with a very unique sound and style.
Positive Euth is available now through Minus Head Records
Track Listing:
1. Bath Salt Party
2. The Present
3. How2kill
4. Commit to Knife
5. Cinema Verité
6. Undead Eat Lead
7. A Little Light Conversation
8. Batdanse
9. Blood Drive
10. Not If I See You First
11. Fingernail Marks
12. Re-Animation
Death Valley High are:
Reyka Osburn
Adam Bannister
Chris Sanders
Huffy Hafera
Links:
www.deathvalleyhigh.com
www.facebook.com/deathvalleyhigh