Fast rising modern rockers, DEAD REYNOLDS, are poised to climb even further with the release of their ultra-hooky new single, Bright Lights, out now – https://youtu.be/HESGPSkc0aE . This killer cut has been taken from the band's hugely anticipated debut album, Breathe With Strangers, which arrives on Friday 20th August via Fort Records.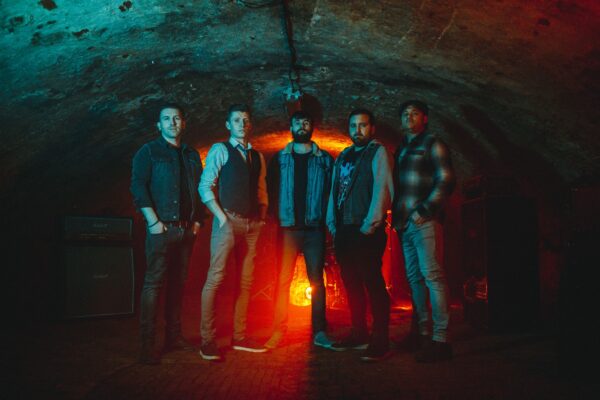 Ever since their explosion onto the scene at the end of 2018, DEAD REYNOLDS have gone from strength to strength. To date, the energetic fivesome have assembled an army of dedicated followers and earned the respect and praise from a plethora of tastemakers. The band have racked up widespread support for their recorded work, including last year's sophomore EP, Frontier, which received buoyant accolades from Powerplay Magazine and Louder/Classic Rock Magazine. The release also gained extensive recognition from the likes of Maximum Volume Music, Moshville, Real Gone, Devils Gate Music, and The Punk Site, to name just a few. As well as obtaining broad acclaim for their previous EPs, the band have also notched up airtime with Kerrang! TV and Scuzz TV. DEAD REYNOLDS have also been repeatedly pioneered by Kerrang Radio's Johnny Doom, with Johnny consistently championing the band's singles and releases. Not only have DEAD REYNOLDS been regularly playlisted by Kerrang Radio, but the Brit anthemic rockers have also picked up worldwide radio airplay across fifteen countries, and have been played by more than two hundred radio stations. Sharing stages with everyone from Deaf Havana, Mallory Knox, and Mark Morriss (The Bluetones), as well as their own headline shows, has certainly increased their profile. The band's Spotify streaming numbers also demonstrate their notable growth (Dead Reynolds' last EP, Frontier, is up to 100k plays and counting).
DEAD REYNOLDS are now set to break out to the masses. The band will release their debut album, Breathe With Strangers, in August. The Brit modern rock crew are also primed to drop their massively captivating new single, Bright Lights. The track is an infectious piece of contagious alt-rock laced with thoughtful breakdowns, a huge refrain, and a modern tilt which demonstrates that the five-piece are unafraid to twist and reshape their sound.
Further singles and video releases are planned throughout the Spring and Summer, so watch out. DEAD REYNOLDS are destined to be one of the bands to breakthrough in 2021.
www.twitter.com/dead_reynolds
www.facebook.com/DeadReynolds/
www.instagram.com/dead_reynolds/