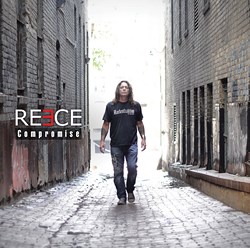 David Reece really shouldn't need any introduction, but for those of you who haven't heard that name before, he is one very talented singer. He has sang with Accept on their 80's album, "Eat the Heat" and then with Bangalore Choir featuring on their album "On Target". You can also add bands such as: Gypsy Rose, Sircle Of Silence, and Tango Down to the list. David has also released a solo album under the moniker 'Reece', which released their debut album in 2009, called "Universal Language".
The album has a great range of styles, allowing Reece to really stretch out vocally, and with a backing band featuring Ronnie Parkes, guitarist Jack Frost –'Savatage', keyboard player Paul Morris 'Rainbow, Doro' and guest slots from Christian Tolle and Andy Susemihl, make sure these songs are given justice.
From the hard 'n' heavy "Evil Never Dies", to more mainstream rock tracks like 'Along For The Ride', 'Coast To Coast' and "Treasure Hunter", through to the soulful ballads of 'Someone Beautiful', which was written by Tom and James Martin from VEGA and ''Everything to Everyone', David's voice still shines through, his bluesy voice blending well with the Hard Rock tracks.
The guitar work on this album is high in the mix, as punchy riffs on tracks like 'End Of It All' and the full on rock 'All Roads Lead To War' really give this album some balls.
There is also a cover version of Credence Clearwater Revival's 'Fortunate Son', something I hadn't expected and had to check the cover notes just to make sure.
This album doesn't deliver any surprises, what it does deliver however is some great heavy rock songs with some great ballads, all in all a very strong release.
Track Listing
01. Disaster
02. End Of It All
03. Fortunate Son
04. Someone Beautiful
05. Along For The Ride
06. Coast To Coast
07. All Roads Lead To War
08. Where My Heart Belongs
09. Everything To Everyone
10. Evil Never Dies
11. Treasure Hunter
Out on October 25th through AOR Heaven