Dan Patlansky with special guest Arielle, live review at The Brudenell Social Club Leeds, April 08 2022
Tonight sees a tale of two blues continents, with award-winning South African singer/rock-blues guitarist Dan Patlansky and Californian writer, guitarist, and vocalist Arielle. Both guitar meisters in their own right are finally out to tour in the UK to promote their new albums on a short number of dates. By the time you read this, Dan will be getting ready to rock the Netherlands from April 21st 2022.
After a spate of Southern rock-inspired bands, it's nice to see modern blues artists paving their way.

Arielle
Arielle is one of those intriguing artists, with influences from Queen to Bowie, she's come a long way since her Dio and Black Sabbath cover band days, to become a prolific guitar player in her own right.

Bassist Devin North, from Austin TX, accompanies Arielle to the stage. As they begin a jam or is it a soundcheck? I am a little unsure from the off but after a few minutes, I realise this is the start of the show with their instrumental Intro. Rolling straight into the classic blues Voices In My Head, in comparison new track Somewhere Slow brings a much rockier vibe.
Every band needs a triangle player right?! Armed with her acoustic guitar, Arielle seeks out the help of a member audience for the task. Triangle in hand the 'new band member' joins Arielle on stage and is prompted to play 'big' whilst they run through Weakness For you, a new Americana number influenced by the sounds of the 60s and 70s.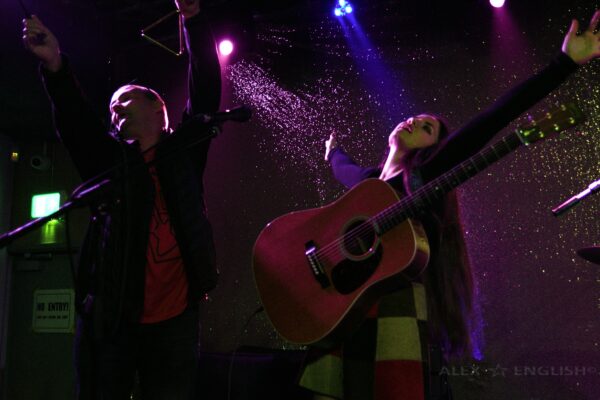 Arielle's voice is as warming as the stories she shares, telling the crowd she 'sucks at real love'. We are told about her love of an older man, on 73, referencing her VW Orange camper van and that orange is one of her favourite colours, as is blue.
The next story is about her 'BFF.' Introducing the audience to her best friend, 'Two Tone'. The customised guitar was built some 15 years ago. In addition, making her own dreams come true the legendary Brain May has customised the Two Tone 'BMG Arielle guitar'. Moreover, it is the perfect time for Arielle to cover 'Tie Your Mother Down' the 1976 hit by Queen.
Getting into a 'jig-jam' and getting jiggy with Devin on the final song Magick Again. Arielle teases "can you go faster" as they romp through an Irish style jam, and they re-run it over again at a break-neck pace with Devin sporting a foot tambourine, he reminds me of Elf, with his wacky jamming antics and bells on his shoe.
Tracklist – Intro – Voices – Somewhere Slow – You're Still A Man – Weakness For You – 73 – Tie Your Mother Down – The Way You Look – Magick Again
NEW ALBUM "ANALOG GIRL IN A DIGITAL WORLD"
AVAILABLE HERE
ARIELLE'S NEW GUITAR "THE BMG ARIELLE"
IS AVAILABLE FROM BRIAN MAY GUITARS
Dan Patlanksy
I've seen my fair share of blues-inspired rock bands and guitar aficionados from Bernie Mardsen to Uli Jon Roth and Dan Patlansky is among them with his captivating dedication to the blues.
Patlansky is an exuberant guitar player, who grew up on the blues, and has had his fair share of the blues, but is now striding out with his new 10th album Shelter Of Bones and is making the kind of music he's always wanted.
With Ben Matthews on drums and Tom Swann on bass, Dan opens his show with the aptly named instrumental Lift Off, a new unreleased song, the dark velvety sound of his Stratocaster gives you an introduction to the prowess of Patlansky.
Dan welcomes his audience as he tells us he is grateful to be back playing live. It's not the first time Dan has played the Brudenell either, he was last here in 2018.
With vocals that lie somewhere between gravely and rough but not too sweet, Soul Parasite off his latest album Skull of Bones is like a blues-rock march, full of fire and energy, drop beats and hard-hitting drums and bass to give the vigour. Dropping three new tracks in a row off his new album, Snake Oil City nods its head to 'funky-soul blues', with a pitter-patter pace and electro-funk guitar by Dan.
Dropping the pace for the melodic blues on the passionate Lost, Patlansky's vocal also changes tempo and reminds me of David Duchovny (yes, he's made two albums), the singing is a bit 'dad rock' but that's not a bad thing. The song is a very personal one and you can hear and feel the emotion in his singing but I like how he lets his guitar do the talking.
It's great to hear Dan live and he's doing a stellar job picking the songs to play from his extensive list of albums, with six tracks off Skull of Bones.
Introducing Heart Of Stone, (no, not the Motörhead song!) this one was written some 20 years ago by Patlasnky, quick maths in my head tells me that he must've been 12 or 13 at the time. At first, I thought he was jesting to avoid revealing his age but no. Dan tells how he came up with the song and thought he was a first-person ever, to do 12-bar blues! Quiet the effort for a young gun! Its mellow smokey vibe is deep dark classic blues, with a few lines thrown in towards the end of the track, is an almost perfect instrumental in itself.
Now, I like a good story behind a song and this one, in particular, is rather interesting for Big Things Going Down. Dan tells us he was contacted by some guy, asking if they could make a video for the song? In short, Dan agreed and when he was sent the video he thought it was a bit 'shit' because it consisted of black and white stills of famous people and street settings but still, he agreed to its release. And, now that video has 4 million-plus views – so what does he know and "thanks that man" "cause now that is my most requested song!"
The slow pace builds and builds to a crescendo and falls back slowly, I don't know if that's a middle 8 but it's damn good!
Play that funky music Dan boy!! Back Bite has you back on the 70's funk with its firm beat! While we're on legends and heroes Patlansky talks about his love of Stevie Ray Vaughn as we get a treat of Scuttle Buttin' & Say What! Oh, yes!
Encore
The Final song of the evening is the bold and beautiful I'll Keep Trying, with a mesmerising melody that makes you feel you are the only person in the room to who Patlansky performing to. I wonder if Dan feels like his own superman and if he could, would he float out high above his audience as he lays down his devilish licks?!
The tour may be over, but do keep a lookout for more shows from Dan Patlasky and Arielle.
Setlist Dan Patlansky
Lift Off
Soul Parasite
Snake Oil
Lost
Stop The Messin
Bad Soul
Helmet of Stone
Hounds Loose
Big Things Going Down
Back Bite
Scuttle Buttin' & Say What
I'll Keep Tryin'
Shelter of Bones which is available from https://danpatlansky.lnk.to/ShelterofBonesSo
For more photos of the night, show go to https://flic.kr/s/aHBqjzKh3V
Words and photo's by Alex English