.@louelladeville_ @planetmosh interview with Absolva frontman .@ChrisAppleton88
I didn't get chance to do a live interview with Chris Appleton at the Absolva gig on 31st May 2014 so Chris kindly took the time to answer our questions by e-mail. Find out what Absolva have got in store, the pranks they play on tour, who spends the most time doing their hair! What life is like on the road and why Chris is the proudest brother in the world.
You've just finished a UK tour to celebrate the release of Anthems to the Dead. What's the audience reaction been like on the tour?
The reaction from the audiences have been absolutely fantastic. We hadn't done a UK tour since 2012. In 2013 I think we only played a small handful of UK shows as we were mainly in Europe. So we feel that we had neglected our home-turf for too long. So we gave them a full 16 Show UK Tour. And it was the best UK tour by far.
What's the reaction been to the album?
Our first album 'Flames of Justice (FOJ)', totally exploded in comparison to what I thought we would do. And that album is still selling massively in UK & Europe. We also have reached the USA and top 20 in the Japanese import charts. The Live album & DVD 'Beyond Live', was something different, showed the live show, and bonus features. And was great to do so soon after the 1st album. Now 'Anthems to the Dead' is released and it's upped another level. The fans have loved this album, and are really surprised that we've pushed it in every way. Production is a step up from FOJ. Artwork & packaging a step up from FOJ. Songs & the playing, and we of course had permission from 'Iced Earth' to borrow Luke to guest on the album and 'Doug Scarrat' of 'Saxon' also. It is everything and more.
Any highlights from the tour?
Some of the highlights, I personally always love paying Newcastle. Geordie land. I don't know what it is, but we've always had a great reaction in Newcastle, and we've done some pretty big support slots there over the years, I think it still is the home of rock in the UK. Grimsby was a great show, we teamed up with 'Eden's Curse' for a double-head liner. I know the keys playing 'Steve Williams' from when he was in 'Powerquest' and I was in 'Fury UK', and we toured UK with 'MSG'. But of course as always the home-town show for us is always a great one. And of course Manchester, we always used to play a venue called 'NQ Live' which unfortunately burnt down. So we moved our headline show to a venue called 'Sound Control' and luckily its right opposite the best heavy metal pub in the world 'Grand Central'. So everything worked great for a great show and a great after-show party too.
Was it strange to have your brother back on stage for the finale?
Even though Luke & I spend a lot of time apart now. Especially quite recently, there will be some cases where he will return after a few months on the road and the day before he gets back I set off, and then by the time I get back he's gone again. And considering me & Luke spent pretty much all of our life together, it's been difficult at times. Not being in the same band and not being around. But strangely enough every time we are together it seems like nothing's happened, and every time he gets back on stage with me, it's like he's always been there. I'm still the proudest brother in the world.
What do you enjoy most about life on the road?
Being away!!! Ha-ha. I just love everything about being on tour. Your schedule and your worries become so much more simple. You wake up, get something to eat, get on the bus, drive to the next place. Load-in to the venue, sound-check, get some food, doors open, support bands play, you play, then speak to fans at the merchandise. Pack-down, load-out, drive to the hotel, go to sleep. Your routine, becomes set and your life is simplified for the better. And you get to play 90 mins-2 hours of your own music every single night!!! If I could spend 10 months of the year on tour, and 1 month recording a new album, then have a month of Xmas that would do me forever.
Any disadvantages?
You don't see your friends & family for extended periods. I miss going to Grand Central for beers & laughs. Sometimes the European ham, cheese & bread for breakfast gets you down in the morning when you want a 'Full English'!! Ha-ha. I'm nit-picking now.
Absolva started as a four piece with two guitarists but are now a three piece. How did you adapt the songs/stage show from two guitarists to one?
It was an easy switch I wrote all the songs on the first album, and I was in a 3 piece band for 8 years. It came so naturally.
You've been likened to one of Rock's greatest guitarists Eddie Van Halen – how did that feel?
Ha-ha, I wasn't aware I had been. But that's a huge compliment. He's one of my fav guitar players from my fav guitar player era. Eddie Van Halen changed the way guitarists played. He was the next step in my view.
Who are your biggest influences?
Where to start. Lemmy is a big influence on me in terms attitude and dedication. It's all about the music, it's about the show. Nothing else is more important. My favourite singers are Ronnie James Dio, Glenn Hughes, Rob Halford, Paul Rogers. I think listening to the bluesy singers and the metal singers is what has helped me develop my voice in recent years. And guitar players, Michael Schenker, Joe Satriani, Tony Iommi, Angus Young, god the list goes on….
What made you want to play the guitar?
The first time I ever heard 'Highway to Hell'. I remember it well.
And my Dad. He's a fantastic guitar player and I used to go watch his bands, when I was maybe only 6-7 years old. And it stuck.
Do you play any other instruments?
I play lead guitar, sing, acoustic guitar, bass guitar, I can also play unusual string instruments, ukulele, bouzouki, and mandolin. Most things with strings I can work out the tuning and get a melody out of it. My down fall is drums. He-he.
If you hadn't pursued a career in music what other career path would you have followed?
I don't have anything else to be honest. I never got into football, my exams weren't bad, but weren't great. Only thing I did well in was music. I worked at a guitar shop full time as soon as I left school. I was teaching guitar, selling guitars and also repairing and servicing guitars from age of 15. I'm also a self-trained live sound engineer. Which I found very enjoyable. And then I decided to go full time into playing, and it was the best decision I ever made. Once your main concentration is the band and you have no other work distracting you, then suddenly the band progresses much faster than you ever thought, and that's what happened. If I wasn't a musician, I would have some other job in music, like tour manager, sound engineer, or something.
You've played with fellow Manchester band Babylon Fire, who supported you on this tour, a few times now. What's the story behind Captain Caveman and the custard pies?
It goes back to when 'Fury UK' did over 30 dates in Europe supporting 'Iced Earth' the very last show of the tour the lads from Iced Earth performed a series of pranks on us whilst we were on-stage. 1. Before we'd even started someone had replaced one of drummer Martin's cymbals with a paper plate. 2. Drummer came dancing on-stage wearing nothing but a sock on his wedding tackle. 3. Singer Stu Block came on-stage wrapped in tissue and Eddie mask. 4. And the finale was the end of our show, they stripped Martin's drums down. Took every drum, every cymbal until he was left with just, kick, snare & hi-hats. They also printed off a lot of our English & Mancunian swear words that we were trying to teach them. Printed them on A4 sheets and stuck them all over the stage. 'Jog on knob 'ed!', 'Do one mate!' Ha-ha. We of course got Iced Earth back by mooning them on stage during last song. So that's what's behind it. And what Absolva and Babylon decided to do.
Absolva look to be having a couple of quiet months before heading off to Europe. What will you be doing in that time in-between tours?
Our main focus now is SOS FESTIVAL 2014. It also marks the 2 year anniversary since ABSOLVA's first ever live show. We have two special guests on-stage with us for this one.
As well as Absolva, we go out touring with ex-Iron Maiden vocalist 'Blaze 'Bayley'. If you ever see a quiet spell in Absolva's diary its because we off touring with Blaze. We've got a whole series of festivals in Crete, Lithuania, Sardinia, Switzerland, Czech Republic, Belgium, as well as some UK shows. That's what have over the summer before starting our extensive European tour, which is now up to over 30 dates.
Are you going to many new places you haven't played before?
For sure, each tour I trying and book more places we haven't toured before and new territories. I always try to play that town that nobody has been. Theres a couple of places we have played on the last couple of European tours, where the venue has said, this is the first time in many years since we've had a British band to come & play.
Where are you looking forward to playing the most?
Its so hard. Belgium is very close to our hearts, we have many fans in Belgium. But France & Holland are fast catching up. Germany are great. But we also have many die-hard fans in Poland & Czech. I made some good friends in Prague last time we were there. Also going back to a great place in Italy. Back to Switzerland.
Which artist would you most like to open for?
I would have loved to have opened up for Dio, or Sabbath with Dio.
But up-coming, it would be great touring with some of the younger upcoming bands, Airbourne, Sabaton, another Iced Earth tour would be good. Or even team with a package of bands, like Primal Fear, Accept. etc
Are you planning to do any solo work?
Yes I'm planning a solo album very soon. Not sure when to release it, or if I'll be touring it solo year. Just have to wait and see. It's early days and I'm so busy the rest of this year.
There are some fine heads of hair in the band. Who spends the most time doing their hair?
Easy…Dan.
Which up and coming bands would you recommend Absolva fans listen to?
Some great bands on the Rocksector Records roster. Babylon Fire are a great hard-working band. Rocksector also just signed old school metal boys 'Avenger'.
Check em out.
After the European tour what have Absolva got planned?
After the European tour, we have another short UK tour planned in December. And then we have January off. Then we have another UK tour, European tour, then another European tour planned with Blaze Bayley. Then we are looking into territories further afield. I really want to tap into Scandinavia next, and then USA.
Any final message?
Just want to thank every single person for their help & support for ABSOLVA. Buying our tickets to the shows, buying our albums and merchandise. Help making us continue what we love to do. You are awesome!!!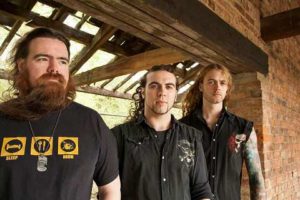 Band Members:
Members Chris Appleton : Lead Guitar & Lead Vocals
Martin Mcnee : Drums
Dan Bate : Bass Guitar & Backing Vocals
Links & Tour Dates: –
Facebook Page: https://www.facebook.com/absolva
Website: http://www.mwaweb.com/absolva_home.htm
PlanetMosh Gig Review: http://planetmosh.com/absolva-sound-control-manchester-31st-may-2014/
PlanetMosh Anthems to the Dead Review: http://planetmosh.com/absolva-anthems-to-the-dead/
SOS Festival: https://www.facebook.com/events/797885070236701/
European Tour Dates: https://www.facebook.com/events/575089835916460/
UK Tour Dates: https://www.facebook.com/events/330541613770372/
https://www.youtube.com/watch?v=55eCoqUIJhc