BURNT OUT WRECK is gearing up for the release of their third album, following on from the critically acclaimed 'This Is Hell', and kick off with the first single, the full-on rocker 'Stand And Fight'. This, without a shadow of a doubt, sets the tone for the full release in true Gary Moat style, hard rocking and fiercely defiant in tone!
Gary states about the new album:
"These are eleven of the best songs I've written. This really was the 'difficult third album', inspired by the worst one and a half years in my life, but the end result was worth the struggle and this is something I'm really proud of. I invite you all to 'Stand And Fight'"
Burnt Out Wreck, fronted by Gary Moat, are as musically unpretentious and outstanding a band as they are an old-school, classic guitar-rock outfit. Front man and songwriter Gary Moat, now more than three decades removed from the original Heavy Pettin, is still proving Rock Ain't Dead, but on very much his own terms – uncompromising riff-led rock that takes the essence of AC/DC and adds sonic swagger and raucous roll in equal measure.
That Burnt Out Wreck sound can be heard to fine effect on debut album Swallow and sophomore release This is Hell, a slightly darker affair that carried both lyrical wit and weighty, guitar-led grit.
The last five years have also seen well-received festival appearances (including a WinterStorm set that elicited an audience response of "one more song!" at set's end), supporting the likes of Anvil, a clutch of headline shows and a return invite to BonFest, all of which have started to pay dividends for Gary Moat, Alex Carmichael (bass), Paul Gray (drums) and new guitarist Richard Upson (guitarist Andy McLaughlin will also be part of the band for live work).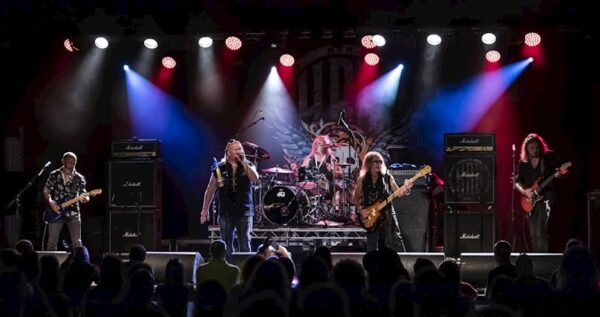 Gary Moat: lead vocals and rhythm guitar
Alex Carmichael: bass guitar and backing vocals
Andy McLaughlan: lead guitar and backing vocals
Richard Upson: lead guitar and backing vocals.
Paul Gray: drums
Burnt Out Wreck shows:
5th Nov, Highway To Hellfest, Blackpool
3rd Dec, Planet Rockstock, Wales
17th March, Bannermans, Edinburgh, 2023
18th March Dreadnought Rock, Bathgate, West Lothian, 2023
27th May, Feel the Steel, Corporation, Sheffield, 2023
https://www.facebook.com/BurntOutWreck/
https://twitter.com/BurntWreck
https://www.burntoutwreck.com/