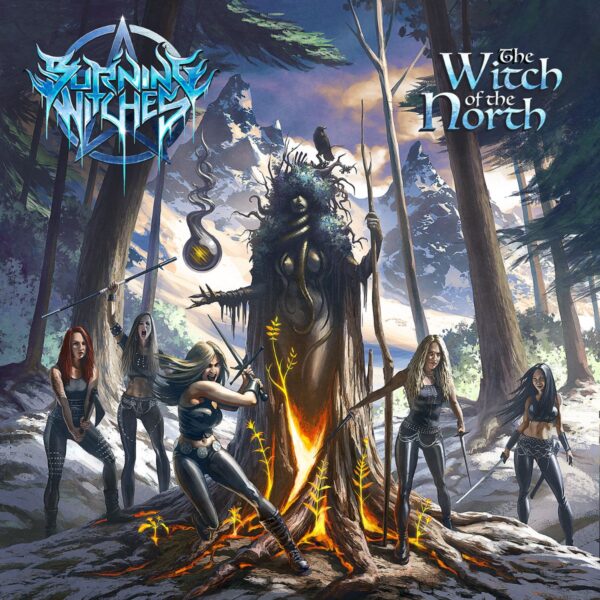 The first thing I do when reviewing an album is count the track listing. If it's more than ten then it has to be good to keep my attention. The Witch Of The North, recently released studio album by Brugg, Switzerland based band Burning Witches on Nuclear Blast Records have recorded fourteen high quality songs to easily keep my headphones on for its hour long duration.
They ease in with album opener 'Winter's Wrath', a sort of folk metal chanted intro that vocally pitches higher to end on.
The restrained bombast of the title track sees a masterclass of heavy metal threaten to shake off its shackles but it just steadfastly riffs hard and heavy over a backbone of ear rattling kick drumming and the histrionic lead vocals of Laura Guldemond. Tinges of battle metal make it a thrilling journey towards twin lead guitar mayhem.
Another drum masterclass powers along 'Tainted Ritual' as Lala Frischknecht batters her kit with some seismic patterns. It's all headbanging heaven so bang your heads and plug in your air guitars as the riffs from Romana Kalkuhl and Larissa Ernst jab and buzz to draw this turbocharged metal monster to a close.
An eerie menace comes from the full blooded stomp of 'We Stand As One'. Full blooded riffing, a call to arms lead vocal, powerful backing vocals in the choruses and shimmering lead guitars are an early album highlight.
A majestic intro of laid back guitar lines and vociferous vocals sees the 'Flight Of The Valkyries' head off to put the power into the metal onslaught. It takes no prisoners on a kick drum smash pinned down by solid bass guitar from Jeanine (Jay) Grob.
Just when you think it can't get any heavier,'The Circle Of Five' devastates on chugging riffs, banshee vocals and gang style delivered chorus vocals.
My favourite track comes from the ballad 'Lady Of The Woods'. It takes a step back from the heaviness to flow on elegant vocals that are truly sublime. Riffs are sparse but still crush as gently picked guitar lines weave around them. A spotlight stealing guitar solo arrives as the song ends on a whisper.
Guitars take centre stage throughout 'Thrall' to make it the heaviest track with ease. They slash and thrash like razor sharp sabres and briefly ease back for the melodic choruses.
'Omen' is a short but chilling spoken word piece.
Mid paced thrash comes from 'Nine Worlds' peppered with some mighty howls that King Diamond would be proud of! The unrelenting pace must surely be a future bona fide circle pit opener.
'For Eternity' is six scintillating minutes of twenty four carat metal as it heads out to the highway on a mighty ground and pound pummel as choruses are hollered out in a Manowar like hail and kill.
The dragons in 'Dragon's Dream' have wings that beat out an invincible force of fist clenching fury. A cackled vocal adds to the intensity, the snare work is superhuman and the guitars duel like two musketeers.
'Eternal Frost' is a quaint instrumental of ebbing guitar lines that leads us into the final track.
'Hall Of The Mountain King' contains the riff of the album to propel this battering ram of battle metal along fast and furious. Swords are drawn for an enemy slaying six minutes of bloodletting. It's Laura's finest vocal here as she commands wholeheartedly with some blood curdling screams, especially in the Thor hammer blows outro!
Band and purchase links can be found here :- https://www.facebook.com/burningwitches666 | https://twitter.com/burningwitches_ |https://www.burningwitches.ch/ | https://www.youtube.com/channel/UC2RqSuKGtOVj9mQyeWglQQw | https://www.instagram.com/burningwitchesofficial/
The Witch Of The North album track listing :-
Winter's Wrath.
The Witch Of The North.
Tainted Ritual.
We Stand As One.
Flight Of The Valkyries.
The Circle Of Five.
Lady Of The Woods.
Thrall.
Omen.
Nine Worlds.
For Eternity.
Dragon's Dream.
Eternal Frost.
Hall Of The Mountain King (Bonus Track).
Burning Witches band line up :-
Laura Guldemond – Lead Vocals.
Larissa Ernst – Guitar.
Jeanine (Jay) Grob – Bass Guitar.
Romana Kalkuhl – Guitar.
Lala Frischknecht – Drums.
These witches cast a spell to summon up pure heavy metal.