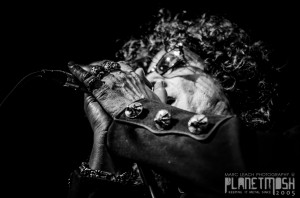 Opening the bill for two bands of the quality of tonight's 'co-headliners' was never going to be an easy task, but LA veteran newcomers Venrez did their task with aplomb and confidence – perhaps buoyed by vocalist Stephen Berez's earlier sampling of the finest whiskey ever distilled, Black Bush.
Despite bassist Mike Bradford suffering early technical problems, the band pummel their way through an energetic set of thumping, groovy classic US hard rock, with a bluesy and also at times punky psychedelic edge, with Berez's main co-conspirator Jason Womack serving as the perfect antipathetic foil to the writhing histrionics of the hugely enthusiastic Alex Kane.
https://www.facebook.com/venrez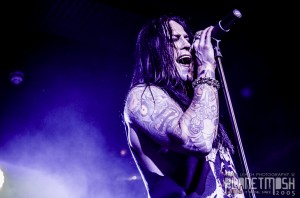 Hardcore Superstar take to the stage oozing sleazy charisma from every pore of their four dark glam bodies, evoking the spirit of Skid Row, Motley Crue and Guns N Roses for a new and hungry generation.  Vocalist Jocke Berg is a natural successor to the likes of Vince Neil, Sebastard Bleugh (as he is known in these parts) and Taime Downe, as he struts and swaggers his way into the hearts of those present – at least half of whom were here to see this half of the co-headlining bill!
Guitarist Vic Zino complements his frontman perfectly with his assured,strutting performance, while the rhythm section of towering bassist Martin Sandvik – who wins a more than a few hearts among the hefty female contingent present – and drummer Adde underpin the sound with enthusiasm (as shown by the latter's frequent vocal interjections), as Belfast warmly takes the Swedish-based multinationals to their heart and soul.
Set list:
This Worm's For Ennio (intro) / Moonshine / One More Minute / Kick On The Upper Class / My Good Reputation / Into Debauchery / Silence For The Peacefully / Long Time No See / Dreamin In A Casket / Wild Boys / Someone Special / Above The Law
Encore:
Run To Your Mama / Last Call For Alcohol / We Don't Celebrate Sundays
https://www.facebook.com/OfficialHardcoreSuperstar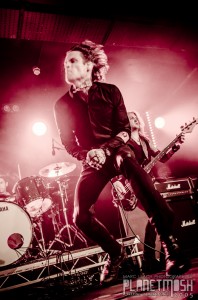 Earlier in the day, Steven Berez had posted on Facebook about how "the crowd will have no idea how trashed all the bands are"… Well, apart from the author of this comment, Buckcherry frontman Josh Todd was the first to show any evidence that any of the artists were feeling under any pressure:  remarking at the end of 'Rescue Me' that his throat is sore, 'All Night Long' – coupled with some serious technical problems with his microphone – is off key, with the singer sounding extremely hoarse and rasping.
While Todd's own performance improves as he stretches his vocal chords – 'Sorry' is suitably doleful, as he reaches into the deeper parts of his range, to compensate for his upper register being all but lost – that of the band is overall lacklustre:  apart from Filipino typhoon Stevie D, the musicians are very much going through the motions.  Lead guitarist Keith Nelson does bump and smooch like the best in the best in the business, but there's a certain "we can't really be fucked" quality about the overall vibe – as epitomized by the main set finale of 'Crazy Bitch', which while garnering the desired reaction is pedestrian and disappointing, especially in its boring funk jam of a middle section.
Set list:
Lit Up / Rescue Me / All Night Long / So Far / Everything / Sorry / Lawless And Lulu / Next 2 You / Ridin' / Gluttony / Nothing Left But Tears / For The Movies / Crazy Bitch
Encore:
Greed / Dirty Mind
https://www.facebook.com/buckcherry
If this was a sporting competition, HCSS would have won this particular one on a technical knock out or points decision…