Life's Machine is the name of the debut album from Portsmouth-based five-piece rock, blues, and soul band Brave Rival, featuring the vocals of Lindsey Bonnick and Chloe Josephine.
The band's third single taken from the debut album is entitled Thin Ice, and it will be released Friday 8 July 2022. Thin Ice is available to pre-save HERE.
Watch the Thin Ice music video here:
The album is available to order from www.braverival.com/music.
"Thin Ice is another classic Ed "The Shred" Clarke Riff", says BR's bass player Billy Dedman. "I'll never forget when I first heard that riff. I was out walking on a particularly frosty morning when Ed sent a demo through to us. The riff immediately caught my attention. As I was messing about on this massive iced-over puddle, inspiration hit, and I suggested we call this demo Thin Ice. The girls ran with that idea and wrote a song all about a loved one pushing one too many buttons!"
Brave Rival, who was recently nominated for "Emerging Blues Artist Of The Year" at the UK Blues Awards 2022, was recorded in the picturesque Surrey countryside at The Mayfair Studio. The band enlisted the talents of record producer and engineer Tarrant Shepherd, an up-and-coming maestro of the control room who cut his teeth with Brit Award-winning producer Greg Haver and award-winning multi-platinum producer and engineer Clint Murphy.
For Tarrant, this was his first professional album under his own stewardship, and he left nothing on the table. This team was a match made in heaven and one that was a long time in the making. 
Originally scheduled for a spring 2020 recording session, Life's Machine was unceremoniously put on hold due to the Covid-19 global pandemic. A situation which stung all the harder for Brave Rival as the first lockdown occurred mere weeks after a successful Kickstarter campaign raised the funding to record.
Undeterred by the social distancing measures which forced the band to stay at home, Brave Rival took to technology to continue writing songs (many of which feature on Life's Machine).
"We didn't want to just give up and hide away," says co-lead vocalist Chloe Josephine. "We wanted to keep the momentum going and keep ourselves from going crazy whilst stuck at home. We would have regular Zoom calls as a band to work on song ideas. Our guitarist, Ed, came up with a guitar riff that he would record at home, then our bassist, Billy Dedman, or our drummer, Donna Peters, would record their parts at home and the song would grow organically." 
The additional year ended up being time well spent as it allowed the band to fine-tune their craft, writing upwards of 50 songs, ultimately allowing them to select the best stand-out songs for the 12-track album.
"It was important for us to ensure every song deserved to be on the album," states the band's bass guitarist Billy Dedman. "We wanted each song to be a true representation of us and our sound. This demanded the best performances from each of us and the best production. Joining forces with Tarrant really was the greatest decision we made as it allowed us to achieve both of those goals"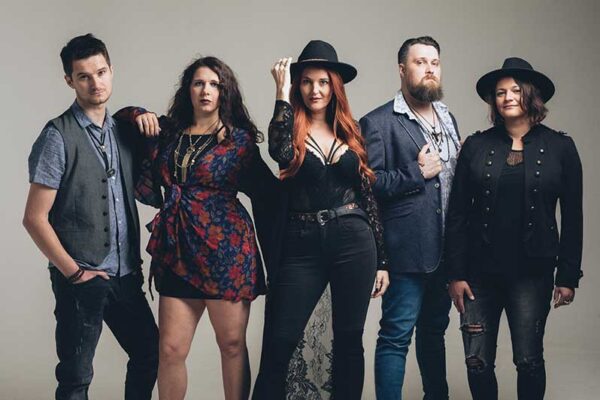 July 7 – Bullfrog Blues Club, Southsea, Portsmouth
July 14 – The Beaverwood, Chislehurst
July 31 – Uckfield Blues and Roots Festival 2022
5 August – Jolly Sailor, Southsea
26 August – Temperance – Leamington Spa
27 August – The Great British Rhythm and Blues Festival, Colne
16 September – Cheese and Grain, Frome (supporting Laurence Jones)
24 September – The Giffard, Wolverhampton
20 October – Tapestry Arts, Bradford (supporting Dom Martin)
21 October – Blue Funk, Rhythm & Blues Club, Manchester (supporting Dom Martin)
22 October – The Wharf, Stourport-On-Severn (supporting Dom Martin)
23 October – The Harlington, Fleet (supporting Dom Martin)
26 October – The Factory, Worthing (supporting Dom Martin)
27 October – Bourne Music Club (supporting Dom Martin)
28 October – Goin' Up The Country, Chester (supporting Dom Martin)
29 October – The Mackenzie Hall, Brockweir (supporting Dom Martin)
5 November – Music Club, Coolham (Supporting Catfish)
11 November – Hallelujah Festival, Hartlepool
10 November – The Blues Bar, Tring
13 November – The Musician, Leicester
15 November – The 100 Club, London (Supporting Corky Laing)
16 November – The Bullingdon, Oxford (Supporting Corky Laing)
19 November – Parish Hall, Sedgefield (Supporting Corky Laing)
20 November – Whitby Blues Festival, Whitby
9 December – The 1865, Southampton (Supporting Laurence Jones)