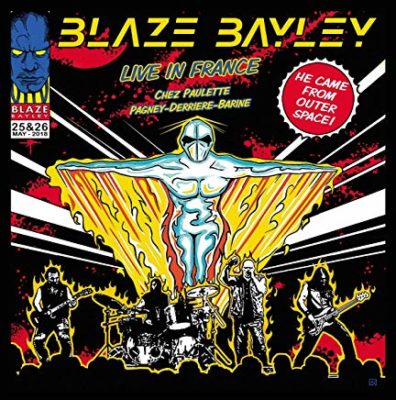 To say that reviewing Blaze Bayley albums kept me busy is an understatement as the hardest working artist I know of has just released his Live In France double album via Blaze Bayley Recordings which makes it 4 in 2 years in between a relentless touring schedule. The gigs I've attended over the years have been more like events, not just a gig as his sincerity to his fans has always been unwavering and this 20 track album proves that point.
Recorded at Chez Paulette, Nancy, France, May 2018, it's very raw and on first listen seems to be taken from the mixing desk. Live albums normally are tweaked a bit before release but this sounds like the real deal to these ears. His ever present touring band of Chris Appleton (lead guitar/backing vocals), Martin McNee (drums) and Karl Schramm (bass guitar) are joined for the final 5 songs by Chris' brother Luke on guitar. The set is heavily based on Blaze's trio of Infinite Entanglement albums and of course numbers from his tenure with Iron Maiden.
'Redeemer' is a bombastic set opener, a short, sharp snare driven song at speed metal pace as Blaze immediately involves the crowd with some call and response "Whoa oh oh's". Chris is all over 'Are You Here' with some furious fret work. 'Futureal', the first of the 4 Blaze era  Maiden covers that sees the lyrics spat out like an auctioneer with some blistering wah wah soloing midway and it closes with the first of many "Merci beaucoup mon amis" to the crowd. A gripping spoken word intro to 'The First True Sign' sees Blaze explain its subject matter in the Infinite Entanglement albums which he does often throughout the gig as its chugging riffs are backed by metronomic drumming. The epic 'Silicon Messiah', title track from his first solo album has total conviction in his delivery. Another powerful intro sows the seed for 'Dawn Of The Dead Son', a drum driven headbanger and Chris absolutely flies through it. There is no escape from the velocity in 'Escape Velocity' for the Chez Paulette crowd as the buzzsaw riffing flies out of the starting blocks.
There is no pause as they rage hard through 'Fight Back' especially when the warp speed guitar solos arrive. A call to arms vocal sets the scene for a full on power metal outro to 'Prayers Of Light' as the second Maiden paean 'Virus' goes into full blooded foot on the monitors heavy metal after a haunting intro. 'Independence' follows a heartfelt speech thanking his fans for supporting his solo albums and this mood flows throughout this fist clenching metal assault and the pace is kept up for the turbocharged 'Immortal One' with 100mph plus guitar solos. 'Human' is a shockwave of riffing and pounding to batter the crowd. An earworm main riff in 'Calling You Home' adds melody to the rhythmic muscle and 'Endure And Survive' is an apt description to Blaze's commitment to his fans in this rapid firing headbanger.
Enter Iced Earth bassist Luke Appleton to apply second guitar duties as he proves his prowess on a double whammy of Maiden covers of 'The Angel And The Gambler' and 'Man On The Edge', both highlighting how strong the Blaze era albums are. The first is my highlight of the gig as it rides along on a roller coaster of emotions and we even get brief guitar, bass and drum solos! The second has a feedback drenched intro and speeds up to take no prisoners. 'A Thousand Years' could describe the touring schedule for the seemingly indestructible frontman as huge chest beating choruses and intense twin guitar work see us arrive to the last 2 songs. The ballistic 'Infinite Entanglement' follows another passionate intro telling the fans that after the gig he'll be by the merch table until the venue closes stating that it's not a meet and greet that you have to pay for and there is one last rush of blood to end a tumultuous set of incendiary heavy metal. There are no half measures from Blaze, just a full glass of the elixir of life.
Blaze Bayley, a trooper that never gives in.