I have been into Black Stone Cherry ever since the release of "Folklore and Superstition" several years ago. Now with the release of their fourth album "Magic Mountain" imminent, how have things developed since I first discovered this band?
One thing that is very noticeable from the off is that this is different to Black Stone Cherry's last studio album "Between the Devil and the Deep Blue Sea". To me I thought that album was a bit too commercialised. Don't get me wrong, it was still a great album, but it felt like the band were holding something back. This time however it seems the band have unleashed a different beast, and have written something with more grit, containing more energy and power, with more freedom and they seem very relaxed. The music at times feels heavier than in previous releases, and it feels a lot closer to the first and "Folklore and Superstition" albums.
Opening track "Holding On…To Letting Go" starts off with screeching guitar and feedback leading into some fabulous heavy riff work. The song grooves along nicely with chunky riffs and melodies throughout. It's a great opener and hard rocking number. "Peace Pipe" sounds like classic Black Stone Cherry. It has huge licks, great rhythms and soaring melodies and a catchy chorus. The first three songs couldn't open the album any better and "Bad Luck & Hard Luck" opens with a nice Hendrix like wahwah guitar sound. There is a slight blues element during the verse with again, a catchy melodic chorus. It is not until 5th song "Runaway" that the tempo slows down just a little, and here we are treated to a mid tempo rocker. It is smooth and easy listening with a lot of melody. One you could easily find yourself singing along to the soaring chorus, and tapping your toes to.
Title track "Magic Mountain" picks up the pace again with its catchy hooks and melodies. The song is like one great trip. It is a feel good song and the most vibrant on the album. The heaviest track with its chunky frantic guitar riffs and wailing of Chris Robertson's screaming vocals is "Never Surrender". There is perhaps an alternative feel here, and the drumming is immense and powerfully constant throughout. The only real ballad on "Magic Mountain", "Sometimes" is a beautiful low key, slow acoustic number. Chris's vocals shine here in his lower vocal register and with its intense heart felt lyrics, this could be one of my favourite tracks on the album. It really is moving and haunting.
The album's flow changes slightly with the next two tracks. Instead of the straightforward hard rocking numbers heard previously, there is some alternative/progressive elements thrown in, with more complex sounds and experimenting. The sound fundamentally is still rocking but the tracks do take a few listens to get used to. "Fiesta Del Fuego" is a party song while "Dance Girl" has a funky groove and vibe, but also is kind if dancy. It is one you could imagine people moving to, not least with the lyrics "Dance girl, here is your chance to prove you can move". Strangely enough though the more I listened to this track the more I did start liking it, but this won't be everyone's cup of tea.
"Hollywood In Kentucky" is full of Southern Country Rock charm and highlights the bands sense of humour. The song has a tongue-in-cheek, sarcastic comparison between Hollywood and Kentucky, and asks us all to lighten up. With lyrics such as "Every pair of boots would be a little muddy, you're asked to get a job if you ran out of money, the only stars you'd wanna see, would be somewhere over Tennesse", its all just a bit of fun. The album finishes with mid tempo rocker "Remember Me" which closes the album out nicely. With smooth melodies and a typical catchy Black Stone Cherry sing along during the chorus, this should have people singing along if done live.
To sum up "Magic Mountain" I'd say whatever Black Stone Cherry were smoking up on that mountain it worked a treat and they had me hooked right from the start all the way through. The album flows along smoothly for the main, with a slight change of direction towards the end but it has a strong finish and good vibes throughout. It contains some of Black Stone Cherry's heaviest sounding material to date with huge chunky riffs, wonderful guitar solos, immense drumming and heavy bass in places. They sound so energetic, vibrant and closer to their older material but with more mature song writing. The boys sound so fresh and relaxed, it is a joy to listen to all the way through. "Magic Mountain" easily could contain Black Stone Cherry's best material to date and one album that could be one of the albums of the year for me. I want to take a trip up that Magic Mountain. Y'all should come along for the ride!
Track Listing
1. Holding On…To Letting Go
2. Peace Pipe
3. Bad Luck & Hard Love
4. Me and Mary Jane
5. Runaway
6. Magic Mountain
7. Never Surrender
8. Blow My Mind
9. Sometimes
10. Fiesta Del Fuego
11. Dance Girl
12. Hollywood In Kentucky
13. Remember Me
Magic Mountain is released 5th May through Roadrunner Records
Black Stone Cherry are:
Chris Robertson – Vocals/Guitar
Ben Wells – Guitar/Vocals
Jon Lawhon – Bass/Vocals
John Fred Young – Drums
Please visit Black Stone Cherry at:
www.blackstonecherry.com
www.facebook.com/officialblackstonecherry
twitter.com/BlkStoneCherry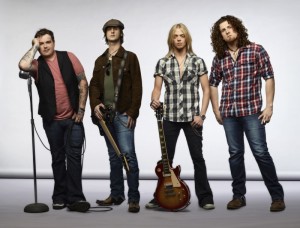 Magic Mountain contains some of Black Stone Cherry's heaviest sounding material to date with huge chunky riffs, wonderful guitar solos, immense drumming and heavy bass in places. The band sound energetic, vibrant, fresh and relaxed and it is a joy to listen to all the way through. Magic Mountain easily could be BSC's best material to date and could be one of the albums of the year for me.