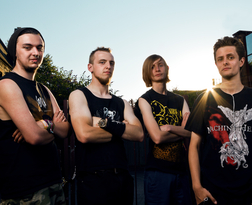 Black Emerald are set to play the New Blood Stage at this years Bloodstock festival on Sunday the 11th August.
We catch up with the band to find out more about them, the festival, their thoughts and what you lucky Bloodstock go-er's will see!
Can you give the readers a quick introduction to the band.
Hey! Well we are a mix of anything that is music really! If you see us we can guarantee you'll find something to enojy.
How would you describe your sound?
Our sound is just anything and everything. We always said we would never stick to one genre, and that is exactly what we have done. I suppose you could say we are, stoner, progressive, doom, blues metal with a smidge of hard rock!
Why did you want to become part of the New Blood Stage line up?
We go to Bloodstock every year. And spend so much time at the New Blood Stage discovering new bands. And we always said we would love to get to play it! So we made it this year's determination to play on the New Blood Line up. So we poured our hearts, Blood and Sweat into it!
What was your initial reaction when you found out you were playing on the New Blood Stage.
Absolute Disbelief and numbness for about a week. And then sheer excitement!
What can the audience expect from you at the festival.
They fans can expect a show that will easily rival that of the headliners on the main stage! And a hell of alot of sweat! Mostly from Edd.
What has been the bands biggest achievement so far?.
Getting onto the New Blood Line up would have to be our biggest achievement, and possibly our biggest opportunity to get ourselves heard.
Have you ever been to Bloodstock before? If so when and what did you enjoy most about it.
Yes, Every year. And it has to be the atmosphere. The Sheer love for metal there is amazing.
What is your opinion of the Bloodstock line-up.
1 word… FANTASTIC!
Thank you for taking the time out to complete this interview, we are looking forward to seeing you at Bloodstock \m/ \m/
Links:
https://www.facebook.com/BlackEmeraldBand
https://twitter.com/BlackEmeraldUK