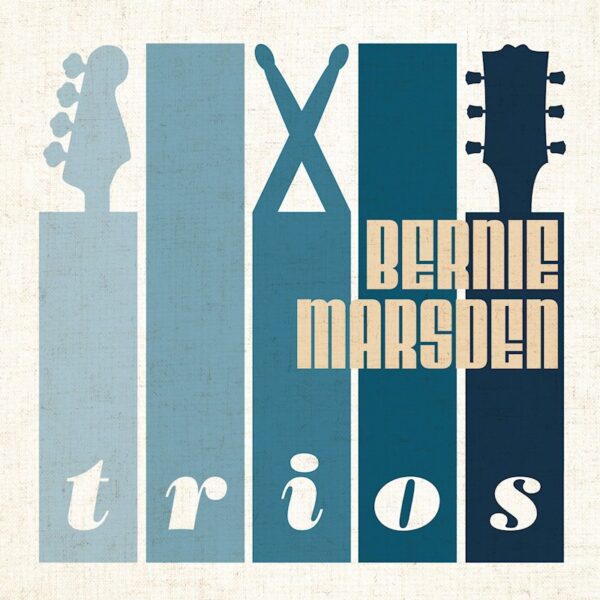 Bernie Marsden, still walking in the shadow of the blues after all these years, delivers the utterly exhilarating Trios album via Conquest Music. It follows his two previous releases the Kings and Chess albums, part of his 'inspirations' series where he pays tribute to the songs and artists that shaped his career as a songwriter and guitarist.
Currently available on all digital platforms and as a special limited edition digipak CD accompanied by a 16-page booklet, it contains his interpretations of songs recorded by some of the greatest power trios in history that brings out the harder rocking side of Bernie Marsden.
These 11 tracks bristle with energy, point proven by album opener 'Black Cat Moan' by Den Nix. The first thing that grabbed me was the tone of the main riff and deft touches of slide as Bernie delivers his vocal with a laid back drawl and his solos are elegant but also rowdy.
Peter Green is represented by 'Driftin Blues'. The sheer beuaty of this song is personified by the precisely picked notes and edgy lead vocal but it somehow soars higher when a poignant midsection retreats for a heartbreaking outro.
'Funk #49' by The James Gang says to get the funk outta here for this party starter and finisher as the main riff must get you busting some moves on the dance floor. Bubbling bass guitar, snappy snare work and ear popping percussion fan the flames of Bernie's guitar as he ignites some superior fretboard salvos.
'Never In My Life' by Mountain sees a lovely tribute as it begins and ends on snippets of 'Nantucket Sleighride'. It's a bare knuckle bruiser brought to life by an earworm main riff as that ire adds a punch to the vehement vocals.
'Outside Woman Blues' by Joe Reynolds is blues with balls, point proven by a fingers blistering main riff pinned down by a watertight rhythm section that bares the brunt of the shimmering solos.
The first of 2 Jimi Hendrix covers sees 'Drifting' deliver a sublime lyric of "Drifting on a sea of forgotten teardrops, on a lifeboat, sailing for your love, sailing home. Drifting on a sea of old heartbreaks, on a lifeboat, sailing for your love, sailing home". The quaint music reflects the love in the lyrics as the second half of the song is mind boggling guitar histrionics.
A ballbusting cover of 'Rock And Roll Hoochie Koo' by Rick Derringer sees Bernie rock out to this stone cold classic with some bruising chops until a snare driven midsection lays down a solid groove for a manic guitar solo to steal the spotlight.
If there were no vocals to 'Same Old Story' by Rory Gallagher you would swear that this was Rory playing his old sweat ridden Strat. The groove will hit you right between your ears as it jabs powerchords and bottleneck solos with aplomb.
How can you improve perfection? Impossible you may think but Bernie gives 'Spanish Castle Magic' by Jimi Hendrix a new lease of life. The vocals entice over a powerhouse dynamic and wah-wah overload for a brain mangling freaky outro.
'Too Rolling Stoned' by Robin Trower is one of the heavier tracks here as it tears along on 5 minutes of trailblazing blues. It begins and ends on wailing wah-wah. Time changes will have you guessing what's gonna grab you next, especially from the lengthy mesmerising outro.
A stupendous take on 'Na Na Na' that Bernie played on way back in 1974 with Cozy Powell (which I saw at 11 years old on (TOTP) by John Cameron sees him put his stamp on the original. The utterly infectious lyrics, powerchords, earthshaking drums and THAT chorus had me singing along like a loon as bass duties come from Neil Murray.
In fact, Trios existed before Kings and Chess as it was recorded in 2007 as a trio line up as Bernie was aided by David Levy on bass and the now sadly departed Jimmy Copley on drums with sessions to try out a new studio in Bedfordshire. The Trios tracks were recorded for fun with no plans to release them as Bernie was concentrating on his Stacks album. So, fast forward to 2021 when Bernie found a CD of rough mixes and luckily original engineer Steve Rispin had kept everything. Alongside James Masters, Bernie mixed the sessions, nothing was added so Trios sounds tight, powerful and fresh!
Links to Bernie Marsden are here :- http://berniemarsden.com I https://www.facebook.com/berniemarsdenofficial I https://twitter.com/Bernie_Marsden I https://www.instagram.com/berniemarsden/ I https://www.youtube.com/channel/UC91FnehvWbBp32sZxGy41Mw/featured
Trios album track listing :-
Black Cat Moan. (Den Nix).
Driftin' Blues. (Peter Green).
Funk#49. (The James Gang).
Never In My Life. (Mountain).
Outside Woman Blues. (Joe Reynolds).
Drifting. (Jimi Hendrix).
Rock And Roll Hoochie Koo. (Rick Derringer).
Same Old Story. (Rory Gallagher).
Spanish Castle Magic. (Jimi Hendrix).
Too Rolling Stoned. (Robin Trower).
Na Na Na. (John Cameron).
Trios album personnel :-
Bernie Marsden – Vocals/Guitar.
Jimmy Copley – Drums.
David Levy – Bass Guitar.
Neil Murray – Bass Guitar on 'Na Na Na'.
I'll leave the last words to Joe Bonamassa. "Underestimate Bernie at your peril because as a singer, he'll kick your ass. As a player, he'll kick your ass, and as a songwriter, he'll definitely kick your ass!"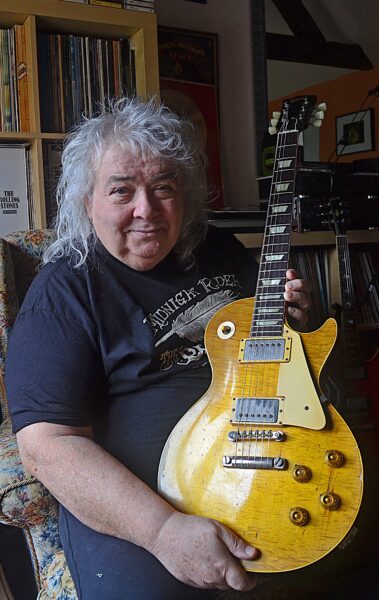 Once again, the time machine of Bernie Marsden takes us back to his youth as his latest covers album Trios is full of beautiful memories of a time gone by.