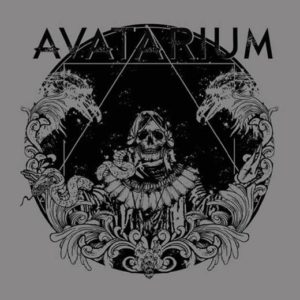 Avatarium is a new outfit which may be unknown to many but from the initial riff, the sound is instantly recognizable as that of Leif Edling, the man responsible for almost 30 years of doom-strewn melodies with Candlemass.
With Avatarium he has taken to territories new by enlisting the vocal talent of Jennie-Ann Smith, a singer who's deceptively powerful voice imprints itself into your consciousness as much as the colossal sound  with which she has been matched. Opening with the gargantuan 'Moonhorse', you would be easily forgiven for thinking it was Candlemass with its single stringed dirge introduction but then an acoustic passage with Smith and her scintillating voice changes the flow. This is chalk and cheese, but the alternating contrast of the heaviness with the folk beauty is a true joy. When Smith joins the riff, the sound is almost like Dio fronted Sabbath as the listener is carried through a musical labyrinth. There is a sense of doom pop surrounding 'Boneflower', very akin to Finland's Jess and the Ancient Ones.
Whether it is on 'Bird Of Prey' or 'Pandora's Egg', crushing riffs abound and surprise as Smith's earthy natural delivery accentuates the melody. 'Tides of Telepathy' definitely worships at the altar of Sabbath while the sinisterly whispered title track pulverises with the speed of a reversing steamroller.  "So many voices inside my head / they speak of the living they speak of the dead" is the horrific chorus that unsettles the listener.  Finishing with the astounding 'Lady in the Lamp', Avatarium paints a fantastical story covered in a soundtrack of mist and shadow. It's very different to the rest of the album but closes the opus on a high note where music touches and embraces the soul.
While each of the songs on Avatarium does follow the Edling blueprint, every one of them offers something a little different. On their debut release, Avatarium have struck more than gold, they have created it.
Track Listing
Moonhorse
Pandora's Egg
Avatarium
Boneflower
Bird Of Prey
Tides Of Telepathy
Lady In The Lamp
Band Members
Leif Edling: Bass
Jennie-Ann Smith: Vocals
Marcus Jidell: Guitar
Lars Sköld: Drums
Carl Westholm: Keyboards
[amazonmp3 asin="B00GWXFKFO"]
Links:
http://facebook.com/avatariumofficial