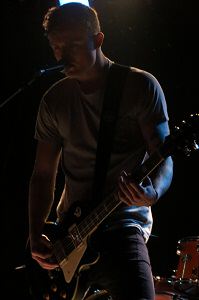 For any promoter to stage the amount of quality gigs which James Loveday puts on – this was his 45th straight 'RocKD' event of the year, not counting the number of visiting acts he has brought our way over the past 13 years – is no mean feat.  It's not an easy task and his path is often lined with difficulties but James always delivers the goods with good humour and pleasant demeanour:  it is for good reason that he is affectionately known as "the nicest man in metal"…  So, what better way for him to bring the curtain down on another incredibly successful annum than with this fine triple-header of three of the hottest young bands on the Norn Iron scene?
Openers Donum Dei play solid, competent heavy metal very much in the vein of early Metallica – right down to frontman Thomas Marshall's hunched stage stance:  indeed, his confidence belies his youth, and the rest of the band are just as mature in both their attitude and delivery and the songs – rooted in the extremely solid foundation of Dean Kane's rumbling bass sound – are well-thought and the set well paced, showing another young NI band with the balls to take it to the wall and knock a hole in the brickwork.
https://www.facebook.com/pages/Donum-Dei/144914665575849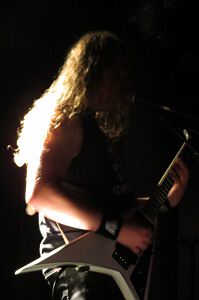 Despite technical problems which force frontman Simon Pickett (pictured left) to quit the stage halfway through the set, north-west quartet Bakken once again show they are a hungry young band with tremendous promise – supported by Pickett's snarling "fuck you" attitude and a classic metal sound built on tight twin guitar harmonics and solid beats, with one of the set highlights being the Celtic rock breakdown of 'Sasquatch'.
https://www.facebook.com/bakkenband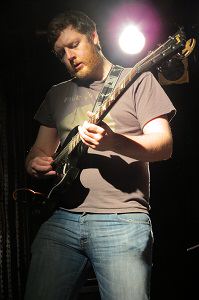 With the exception of the closing shout-outs of 'Emerald Lord Of Pleasure' and 'Back To The Bog', Armagh-based sludge monsters Astralnaut deliver a set of wholly new material, to be featured on their new EP, due to recorded early in the new year.  These new songs see them going down a much more Down-influenced route than before, with deep, threatening riffs from Pearse Donnelly and Gaz Treanor (pictured right), and vocalist Thomas Mallon's deliuvery taking on a more menacing mien.  Despite having to cut their set short to allow one of the band members to travel home for his works Christmas dinner, it's another impressive set from this excellent quintet and certainly whet the appetite for the new release, which will now be looked forward to with salivating anticipation by fans.
https://www.facebook.com/Astralnautmusic
The Distortion Project's 'RocKD' promotions now take a well earned break, returning with 'Highway To Hell' on Saturday February 1:  https://www.facebook.com/events/240946362737220/
Photographs by the author.