While I've often bemoaned poor attendances at gigs on 'school nights', it always pleasing to see some shows buck the trend, as it were, and so it is a genuine pleasure to be able to report, right at the outset, that, despite it being a Sunday, there was a very respectable turnout for this return to Belfast by Argus.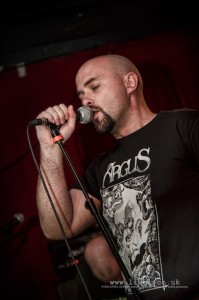 Openers Terminus take advantage of the sizeable and appreciative crowd to deliver a solid and extremely effective set of doom-infused classic metal, very much in the vein of Grand Magus and Orange Goblin.  Drummer David Gillespie is especially impressive, playing with the right balance of power and precision and perfectly complementing Dave McCallum's monstrous bass lines, which in turn underpin the crunching riffery of Paul Duffy and Gavin Coulter.  Vocalist James Beattie has grown into a confident frontman, his deep voice perfectly matching the band's dense material and epic subject matter.
https://www.facebook.com/terminusni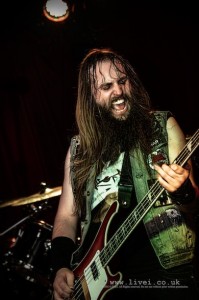 Rabid Bitch Of The North frontman Joe and drummer buddy Chris possess two of the most impressive beards in local metal and, together with guitarist Jake, a sound that is very much rooted in NWOBHM and the Eighties in general, combining the bottom-ended heaviness of Motorhead, the melodic sensibility of Judas Priest and the dark edge of Mercyful Fate.  The roots of band's sound are acknowledged midway through the set, when he dedicates the gloriously tongue-in-cheek 'Help I'm Stuck In 1999' to "all the fuckwits who laughed at us for listening to music from the Seventies and Eighties":  the song itself is a blitzkrieg-inducing blast, dragged kicking and screaming from the era these three guys love, live and breathe.  Other set highlights include a brand new track, 'Defending Two Castles', with its thrumming riff and ballsy bass, 'Slave To The Man', with its acidic vocal and winding melody, and the Maiden-esque closer 'Us Against Them'.
https://www.facebook.com/NWOBHMRBOTN
Having played two back-to-back sold-out shows in Dublin (one acoustic, the other a full show, with a jaunt down to Limerick in between) Pennsylvania's Argus are a lean and mean metal machine, producing a sound based on the heaviest of Sabbath-style bass riffs combined with a doom-infused NWOBHM twin guitar style which is energetic, committed an played with the passion only those who believe in what they are doing can produce.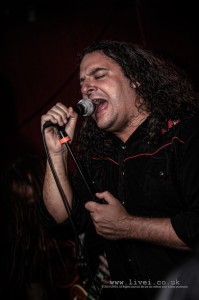 They rattle through a well-paced set, with the likes of 'Day of The Damned' and 'From Darkness… Light' driving, punchy and anthemic, built on rock solid rhythmic foundations that veritably shake the room.  '42-7-29' has a dark and dense slow grind to it, while 'Wolves Of Dusk' has every head in the house nodding in sage appreciation and 'Pieces Of Your Smile' produces the first mass singalong of the evening.  By the time the Celtic-tinged battle hymn 'Durendal' spills forth, fists are pumping and the adrenalin is flowing more freely than the beer:  there are some rare, such as the heavy doominess of 'The Outsider' which vocalist Butch Balich – a man possessed of a quare set of lungs, as we say in this corner of Planet Mosh – introduces as "another one we haven't played in a few years", and the energetic main set closer 'Devils Devils'.
Paying homage to their roots, the first of three encores sees the band tear Maiden's classic 'Phantom Of The Opera' a new one, and gain a suitably rabid response, before Balich offers the audience a choice – "do you want 'A Curse On The World' or some Thin Lizzy?" before the band rip into a rousing version of the former and then conclude with a faithful and reverent cover of Lynott's 'Johnny'.
https://www.facebook.com/argusmetal
'Beyond The Martyrs' is available for pre-order from http://www.cruzdelsurmusic.com/store/index.php?route=product/product&product_id=640
I must conclude with a personal observation:  this was a supremely well-balanced bill, with the three bands complementing each other perfectly in terms of their sound and delivery to produce a well-rounded and extremely enjoyable evening of the sort that consistently reminds of why I am a proud member of the congregation of the church of heavy metal…