Metal legends Anvil are on a mammoth 60-date tour playing 16 dates in the UK before hitting Europe for the rest!

The band was formed in 1978 in Ontario, Canada by Anvil's original members Steve 'Lips' Kudlow on guitar/lead vocals and Robb Reiner on drums. Joined by Chris Robertson on bass guitar and backing vocals in 2014, there's no stopping these stalwarts of time.

Riding on the crest of their latest release in May 2022 'Impact is Imminent' (their 19th album) and the re-release of Anvil! The Story of Anvil documentary, things are looking good.
Electus
You can tell you're in for some good old classic rock-metal as West Midlands trio Electus takes to the stage. Opening with tub-thumper Saved. A band that has been around for some time with various line-up changes now sees on bass, Aldabass Mills, vocals and guitar Mick Hales and thumping those skins is Mick Hales.
With melding riffs, the classic voltage vibe of rock Soul Breaker and Midnight Dancer are two back-to numbers off their Close Encounters album, with Killer Joe completing the trio, with undertones of Guns N' Roses.
A great band that leans a little to the progressive side, but has plenty of variation.
Can I have more cowbell, please!! The laden heavy rock-based Ticket To Nowhere was my favourite of their set tonight.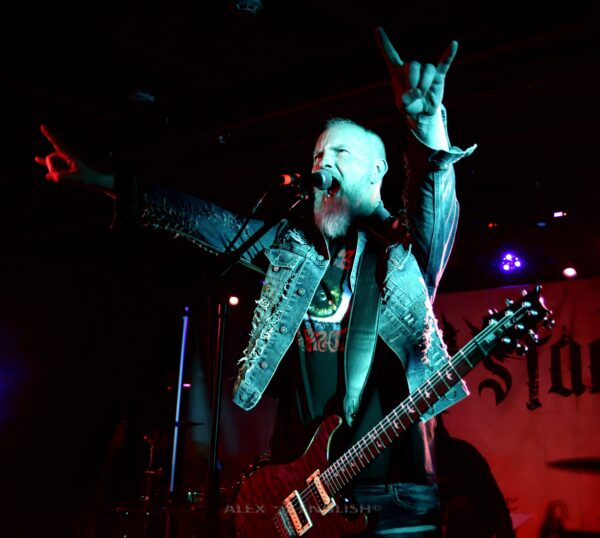 Electus Setlist
Saved – All The Way – Best of Me – Soul Breaker -Killer Joe – Ticket To Nowhere – Mississippi Queen (cover)
Links: https://electus.band/electus-home-page | https://m.facebook.com/electus.band/events
Living Dead Stars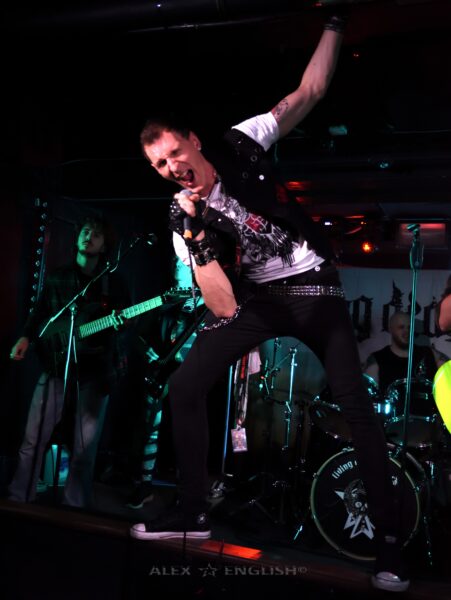 Now based in LA, Living Dead Stars was originally formed in London by singer M.Nox. They are an interesting band from their look which is an eclectic mix of styles; to their use of backing tracks to give that extra oomph and bring the studio-recorded, feel to their songs.
Singer M.Nox describes his band for fans of Avenged Seven Fold, and if I'm honest my first impression is 'here we go' another wanna-be of A7X as Nox takes to the stage looking like a copy of M.Shadows.
Building up the audience the first song Redeem Ourselves is very reminiscent of A7X's 'Nightmare' with its slow progression keyboard intro, which creeps up in tempo. I don't think it was the best introduction but they've only just begun. Nox is happy to share little stories and the most ironic is when he tells us 'to not play with dead things.' Just at the pinnacle moment the cord breaks free from his mike and hits the floor!
Don't Play With Dead Things is on their yet-to-be-released album but packs a punch, followed by Agenda, another banger off the yet-released album is filled with killer riffs and hard-hitting drums. Heavy suits this band, they should drop the melodic from their description as it's obvious they are not melodic!
Closing with the rhythmic Through The Fire, reminds me of A System of A Down, interloping symphonic solos and crazy drums, and passionate vocals. A good one to close the set with.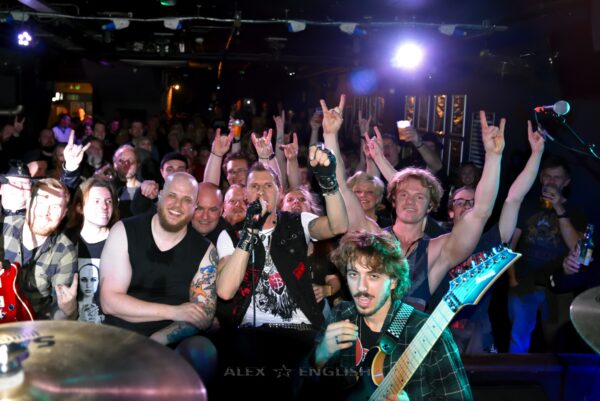 Links: https://www.facebook.com/livingdeadstars/?ref=page_internal
| https://www.living-dead-stars.com/
Setlist – Redeem Ourselves – In Pieces – Dead Things – Agenda – Nightmare – Betrayed – Kill Zone
– Enemy- Through The Fire
Members: Manuel Nox –  Spencer Conley – Ashley Guest -Jon Black
ANVIL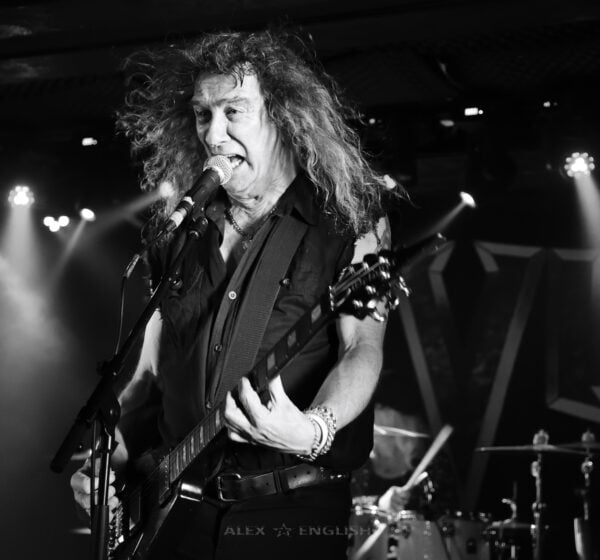 ANVIL
Impact Is Imminent as the crowd waits in anticipation of the beloved trio taking to the stage. March of Crabs sets the scene, someone has a sense of humour! Robb Reiner sets the battle-paced drum beat, as singer/guitarist 'Lips' frets away on the guitar and Chris "Christ" Robertson is the bassy ball's liner on this instrumental – all hail Anvil!
Playing an impressive 15-song set from their career-spanning catalogue of albums, tonight they manage to dip into nine albums.
Singer/guitarist Steve 'Lips Kudow' is never short of a story for his audience, he told so many, I couldn't write them all down. Probably one of their more classic rock and roll numbers is the sassy Ohh baby from their debut album Hard 'N' Heavy released back in 1981.
Bringing things back up-to-date- is Legal At Last, a song about the legislation of marijuana, they are Canadian after all, and they couldn't wait to tell the world about it when the album of the same name was released in February 2020. Touring began in the UK but unfortunately, the remainder of their UK Tour was scuppered in late March 2020, due to you know what!! (The UK Lockdown). I went to one of their last shows on March 14th, and then that was it, until now!
Anvil is back bigger and brighter and tonight is one of the greatest times I've seen them.
Playing Badass Rock n Roll, the song has all the elements you need, go and listen to the lyrics. Anvil, love the energy and zest given off by their fans and the fans don't disappoint tonight. 'Badass' is a Motörhead-esque sounding song that plays perfectly into Lips' next story about the time he met Lemmy, in fact, he met Lemmy quite a few times and he still muses at the advice he was given.
Denim boys with electric toys
Celebrating nine years with bassist Chris "Christ" Robertson, Lips thanks his winged assassin. And what better way to celebrate than whipping out the 'toy' on Mothra, a venomous kick-ass number made all the more interesting by Lips putting the metal to the pedal and grabbing out a vibrator to provide the Godzilla riffing effects!
The next one is about their love of satellite navigation systems!! Bitch In The Box is off their 'Pounding The Pavement' album and is an absolute banger!!
Cue Rob Reiner's drum solo, an epic performance on Swing Thing!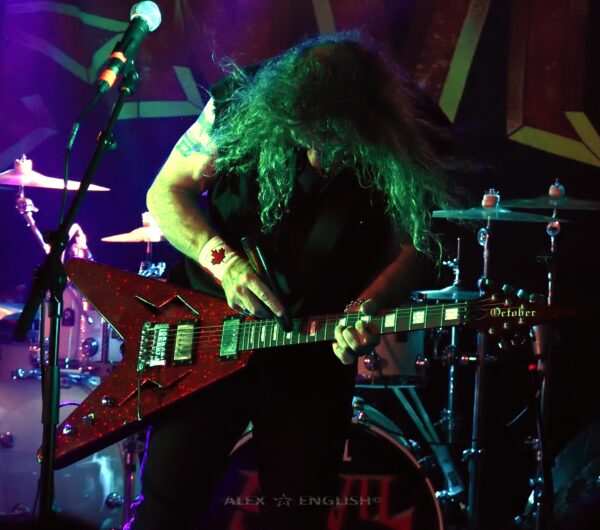 Piling on the metal riffs on Ghost Shadow, it's the second song played off their latest album 'Impact Is Imminent.'  Anvil pulls off a fresh sound with their crunching riffs without losing the embellished sound of Anvil.  
It had to be done, one of their greatest anthemic sounds of all time is 'Metal On Metal' taken from the album of the same name. Horns are raised, hair is whipped and sweat is let out on their own final song of the night.
In the words of Anvil  'Keep On Rocking'  \m/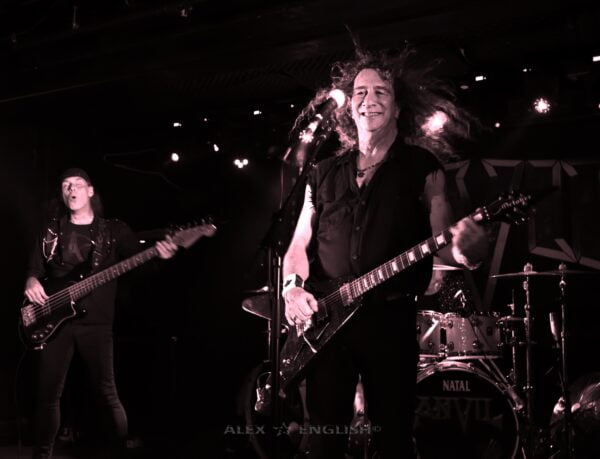 Anvil SetList
March of the Crabs (1)
666 – (1)
Ooh Baby (2)
Legal at Last (3)
Take a Lesson (4)
Badass Rock 'n' Roll (5)
Winged Assassins (6)
Free as the Wind (6)
On Fire (7)
This Is Thirteen (8)
Mothra (1)
Bitch in the Box (9)
Swing Thing (7)
Ghost Shadow (4)
Metal on Metal (1)
Albums covered: (1) Metal on Metal, (2) Hard n Heavy, (3) Legal At Last, (4) Impact is Imminent, (5) Hope In Hell, (6) Forged In Fire, (7) Junnernault of Justice, (8) This Is Thirteen, (9) Pounding The Pavement.
Line-up
Robb Reiner – drums
Chris "Christ" Robertson – bass
Lips – lead vocals, lead guitar
Anvil Links : https://www.facebook.com/anvilmetal | http://my.tbaytel.net/tgallo/anvil/ | https://music.youtube.com/channel/UCG045iPvxKbI_NZmuB9q5Pw
Words and Photos by Alex English, sources from the internet ( don't heckle me if I'm wrong)