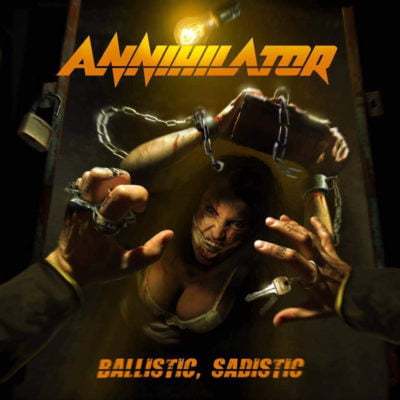 Still thrashing away since 1984, Canadian based metallers Annihilator show no signs of slowing down with their seventeenth studio album Ballistic, Sadistic. One of the two founding members, Jeff Waters is still putting his heart and soul into delivering old school thrash metal and the ten tracks on here show his dedication to the cause.
Currently released via Silver Lining Music they batter us from the off as 'Armed To The Teeth' lives up to its title with riffs that Jeff probably writes in his sleep. His lead guitar prowess is proven as he solos in the first minute like a madman alongside the kick drum overload. There is no let up in pace as they break the speed of sound with 'The Attitude'. The riffs tear along with aplomb when they are let loose after the pounding intro as Jeff adds touches of fretboard burning wah wah soloing topped off by his anger fueled lead vocal.
'Psycho Ward' is a bare knuckled fight bruiser as rhythms writhe and churn for a headbanging five minutes of fury. 'I Am Warfare' is a blitzkrieg of astonishing thrash metal and if Jeff is in charge of said war, any who stand in his way will be raising the white flag of surrender! A punishing breakdown midway gives way to a caustic guitar solo ridden with bottlenecks and dive bombs. The attitude of early 80's thrash metal is brought kicking and screaming to the present day once more with 'Out With The Garbage'. It buzzes along for an exhilarating white knuckle ride of hypnotic riffs. Kick drums destroy once more with devastating effect throughout 'Dressed Up For Evil' a surefire pit opener as a frantic instrumental midsection sees heavy pieces punctuated by powerful bass guitar lines.
'Riot' has enough power to start one as it positively thunders along, taking no prisoners in its wake. It took me a few listens to get into 'One Wrong Move' but I was eventually won over by its bullish belligerence. A bass guitar battery for 'Lip Service' sees the band take a step back from thrashing to deliver a fine slice of power metal grooves that end on a face melting guitar solo. They leave us with one last race to the finish line as they lock in for water tight rhythms that defy belief in 'The End Of The Lie'. A true example of sticking to a winning formula with no compromise!
 Ballistic, Sadistic album track listing :-
Armed To The Teeth.
The Attitude.
Psycho Ward.
I Am Warfare.
Out With The Garbage.
Dressed Up For Evil.
Riot.
One Wrong Move.
Lip Service.
The End Of The Lie.
The thrash metal bar has been raised high for 2020 by Annihilator.