It's not every day that you can quote you saw the Devil inside the wardrobe! Well, today I can as The Wardrobe venue opens its doors to host Danny Kiranos aka Amigo The Devil. Tonight the dark Americana/folk singer-songwriter has brought along Tejon Street Corner Thieves for support.
Tejon Street Corner Thieves
Hailing from the Colorado Rockies, Tejon Street Corner Thieves are good buddies with Amigo The Devil, having signed some years back with his record label Liars Club Records. The contemporary Alt-folk Bluesgrass three-piece comprises Conner O'Neal on vocals and banjo, Julie Frost on Stick Bass and Shawn D'Amario on guitar. They got their name partly from busking on Tejon Street and being called 'corner thieves' by a local hobo.
What do we need, 1,2, 3, 4… Whiskey! That's All We Need is a grassroots-soaked tub-thumber opener, as the Tejon Street Corner Thieves pour one after another of Whiskey-themed songs. Washboard banjo blues is the order of play, polite is not on the menu as this jovial threesome has a bunch of tongue-n-cheek songs, and you can't help but love the energy given off.
The audience are liking it and there's plenty of participation and chat from the band to the crowd. Julie tells us she is playing a 'piss-stick' bass tonight instead of a full big bass, something to do with the flight cost of bringing a full-sized bass on tour…!
Hi-de-hi-de-hi-de-hi the band launched into their rendition of Minnie The Moocher with Shawn on the magic kazoo…the crowd sings back Hee-de-hee-de-hee-de-hee. It's nicely melded into their song You Rascal which ups the ante, with killer story lyrics and more a kazoo for effect. Conner puts the banjo pedal to the metal. I do enjoy a good storyteller and these have plenty. As the band round off 'I'll be glad when you dead with a bullet in your head'!
With guns, blazing, Tejon frontman Conner brings down the vibe on 44, it's more sombre, but the verses aren't sober. Closing with Whiskey, c'mon, you've got the message these outlaws love a good drinking tale! It's priate-grass-roots! Aargh, hic!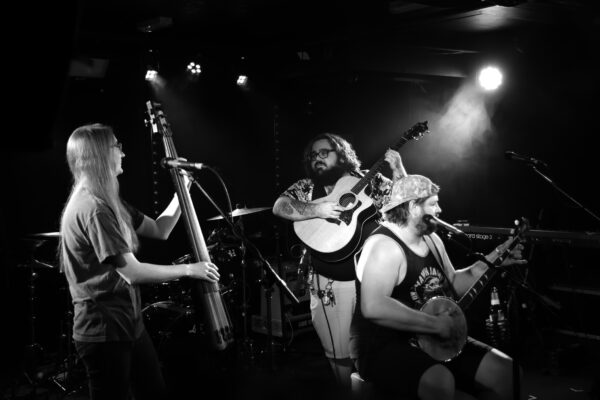 SETLIST: All We Need, No Good, Whiskey Shivers, Ruebens Train, Minnie The Moocher, You Rascal, 44, Greasy Coat, Demons, Lay Low, Whiskey.
https://www.cornerthieves.com/
https://www.facebook.com/tejonstreetcornerthieves/
Amigo The Devil – Hungover In Europe & UK Tour
After a superb set from Tejon Street Corner Thieves, the crowd get themselves ready for the devil to come out and play.
Fronted by Danny Kiranos, the banjo/guitar wielder, singer-songwriter hails from sunny Florida and is joined by his full band on this Hungover In Europe/UK Tour, which includes his sister Katerina 'Katacombs' on keyboards.
Described as 'murder folk, AMIGO The DEVIL likes to sing about drugs, dying, killing, and harming bad people. So, if you like your music lyrically dark and twisted and a little on the macabre side, then Amigo The Devil is the band for you.
Creeping out of the shadows onto the lowly lit stage, Amigo is armed with his banjo as he gives a solo performance on the first couple of songs, One Kind Of People, it's a 'plucky banjo' number. If I'm Crazy is a brazen effed-up love story. Amigo tells us there are lots of people you meet in life, but tonight in this room, we are the same type of crazy. And you know what? This is where you'll meet the best people, so long you're not fucking up someone's life, we're all a little crazy and are here to have fun, no one is going to judge you tonight.
Teasing us with some banjo twanging, the crowd erupts when they hear the opening bars of the next song. Dahmer Goes To Hollywood. The hypnotic Rohypnol lullaby comes to full effect as the dramatic keys from Katerina and deep bass chords build the intensity. Cue the chorus and the audience can't wait to join in on 'I am the angel that decides your fate.'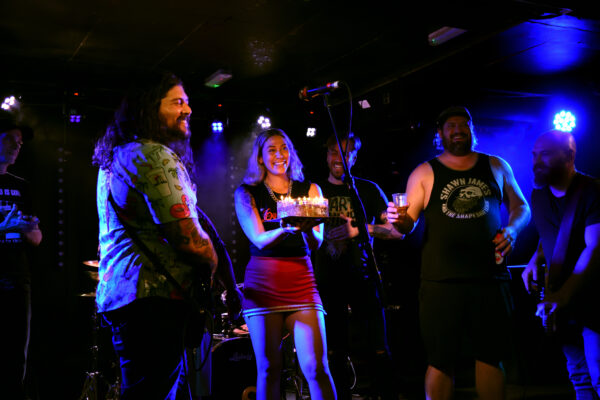 Even the devil loves cake but liquor is quicker
Did I mention it's El Diablo's birthday today? In between songs and the on-stage banter. Amigo is joined by fellow members of Tejon Street Corner Thieves who bring the shots and cue Katerina who brings to the stage a birthday cake. Amigo blows out the candles and then takes a shot of liquor, which he spurts like a fire-breathing dragon up in the air, laughs!
Keeping the light mood, Amigo jokes about playing a 'fuck you song', as if it were sung by wrestlers and jests into Bruce Springsteen, 'I'm on Fire'. ( I think it was) Cut that!! Here's a little sing-along for you. The band play a cover of All-Star.
As setlists go, this one is hotter than a funeral pyre! Including the much-loved Different Anymore, The Liars Club and Cocaine and Abel.
This song is the one where Amigo reminds us that it usually upsets at least one person in the crowd. Explaining why and who he wrote the music for I Hope Your Husband Dies. I'm sharing my guilt with you! It is great watching the Devil's face as he empathises with his lyrics and elongates his words for emphasis.
Doing it all together
Hell and You, the devil's little ditty has the crowd roaring, and you can tell they are eager to join the chorus on this murder-folk Flamengo-style number, and they get their chance. Folk-waltz, Hungover In Jones Town continues the crowd interaction as they blast away its infamous punchline 'La la la, la da da da da, oh Life is a joke and death is the punchline' as they go loco.
Thanking family, friends, The Tejon Corner Thieves and of course his audience.
We're told there are two songs left! Does anyone want to guess? Bingo! Murder At The Bingo Hall, where ironically no one was murdered.
A solo Amigo now holds the stage and thanks his audience for giving him a wonderful show tonight, telling us this is defiantly the last song. The Dreamer resonates through the crowd and, again I'm impressed with them joining in on the lyrics as Amigo stands centre stage as his audience closes the song with him. Beautiful.
If you didn't feel indoctrinated into the devils club after this show, then there's no hope in hell for you!
Amigo The Devil Band, Joined by guitarist David Talley, bassist Jason Deitz, drummer Carson Kehrer, and Katerina Kiranos – keys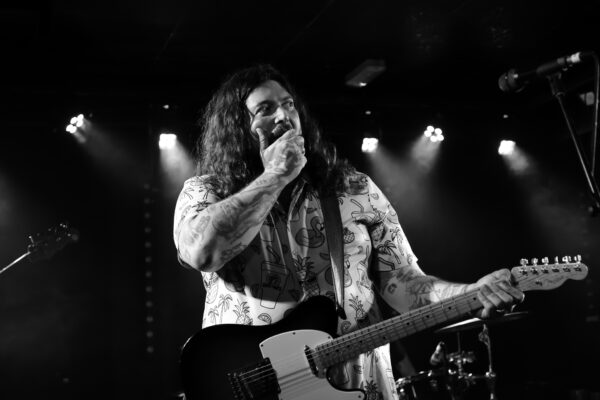 More photos here – https://flic.kr/s/aHBqjAL7g2
Setlist
One Kind of People
I'm Crazy
Dahmer Does Hollywood
Different Anymore
All-Star (Smash Mouth) cover
I Hope Your Husband Dies
Another Mans Grave
Hell and You
Hungover In Jonestown
The Liars Club
Cocaine And Abel
Murder at the Bingo Hall
The Dreamer
https://www.facebook.com/amigothedevil
https://www.amigothedevil.com/
Words and photos by Alex English, at The Wardrobe, Leeds, 26th June 2023