Pirate metallers Alestorm are back with their sixth studio album. While critics will no doubt moan about how they must be scraping the bottom of the barrel for pirate themes to sing about, the band won't care and nor will their fans, and if you've seen the crowds they attract at festivals in the last couple of years you'll know they have a lot of fans. Lets face it, pirate themes generally involve alcohol and alcohol and festival crowds are natural partners, so Alestorm's tongue in cheek songs and their live performances are a lot of fun, and if you don't see some people dressed up as pirates in the crowd you'll certainly see plenty of inflatables – after all, this is a band that on recent tours has had a giant inflatable duck on stage with them.
One video to be released from the album is the opening track "Treasure chest party quest". It's a typically bizarre video from the band who had this to say about it…"Oh wow! We tried our very best to make a video that would alienate as many of our fans as possible. I think we succeeded! This song is about giving birth to yourself, selling out, and driving awful Yugoslavian cars. All the classic elements of pirate metal!"
The second song to be released was "Tortuga" which seemed an odd choice to me as it's the least like a normal Alestorm song there is on the album. It features Captain Yarrface, vocalist from Rumahoy on guest vocals.
"Zombies ate my pirate ship" is another departure for Alestorm – the main part of the song sounds like typical Alestorm, but there are a couple of bits that are different – there are female vocals at one point (from hurdy gurdy player Patty Gurdy), and at another the words of the title sound more like death metal vocals
Other guests on the album include Mathias "Vreth" Lillmåns of Finntroll, Fernando Rey of Afterpain from Argentina, and Kaelhakase & Tatsuguchi of Japanese Folk Metal from Japan.
It's definitely an album that Alestorm fans will enjoy and equally will do nothing to win over the critics. There are catchy choruses, there's fun, there's lunacy, there's some video game sounds (in "Wooden Leg Pt. 2 (The Woodening)") and plenty of randomness – in other words it's Alestorm doing what they do best – creating music that's great fun to listen to when drinking heavily at festivals.
"Curse of the crystal coconut" will be released on 29th May 2020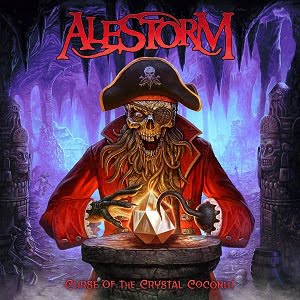 Track listing:
1. Treasure Chest Party Quest
2. Fannybaws
3. Chomp Chomp
4. Tortuga
5. Zombies Ate My Pirate Ship
6. Call of the Waves
7. Pirate's Scorn
8. Shit Boat (No Fans)
9. Pirate Metal Drinking Crew
10. Wooden Leg Pt. 2 (The Woodening)
11. Henry Martin
There are catchy choruses, there's fun, there's lunacy, there's some video game sounds and plenty of randomness - in other words it's Alestorm doing what they do best