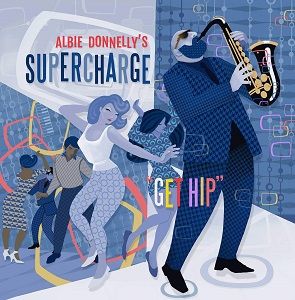 Albie Donnely was a founding member of Supercharge in 1974 and 44 years on he's still going strong, doing lead vocals and tenor sax. Supercharge may not be a band some readers have heard of but they were signed by Richard Branson to his Virgin records label and among their many live dates, they opened for Queen at their 1976 Hyde Park festival. On this album Albie Donnelly is joined by Molly Duncan from The Average White Band, and guest vocalist Tommy Blaize (who is part of the band on Strictly come dancing). The band describe this album as "Dynamite rhythm and blues"
This album consists of ten cover versions with the songs chosen coming from artists including Buddy Guy, Howlin' Wolf, James Brown and more. To describe how it sounds, I'd describe it as "music you can imagine being in the Blues Brothers movie". If you've seen the movie (and if you haven't then why the hell not?) then this music really is along the same sort of music as they play in the big show near the end of the film – you've got great songs – many being swinging up-tempo rhythm and blues. Youve got the horns that really help lift a song up and give it more power. It's not all up-tempo stuff though – "Sack full of dreams" slows the pace own nicely. Similarly "Last two dollars" is a fairly slow paced song and starts off feeling like a fairly traditional blues song but once the horns join in and the backing vocals it lifts the song up a bit.
Really the album is in two parts – the first few songs are the high energy rhythm and blues songs, then the pace slows down a bit for the rest of the album. It's a great album but it's those early songs that really impressed me the most, so it's a shame there werent a few more like that.
A great album that's well worth a listen.
"Get hip" will be released on 18th January 2019 via 3ms music.
Track listing:
1. Killing Floor
2. What kind of woman is this
3. Outta sight
4. Sack full of dreams
5. Back in love again
6. Last two dollars
7. Sixty minutes of your love
8. What you won't do for live
9. Got my whisky
10. I was telling her about you
A great album that's well worth a listen.