Since I've started reviewing gigs for Planetmosh I've got to experience quite a few different clubs. Nothing however could have prepared me for what I was confronted with when I strolled up to Satan's Hollow in Manchester to see After the Burial.
A small side street entrance led me into a fantasy realm from the imagination of Clive Barker. Expecting to be confronted by Pinhead any moment as I ventured into the bowels of hell. Now while I am waxing lyrical about the venue, I was impressed with how the club is decked out. Blood appears to ooze down pillars and screaming faces strain to escape from their torment. The originality of the room doesn't however end there. The stage if you can call it that is more like a bandstand placed in the centre. This allows a 360° experience I've not seen before.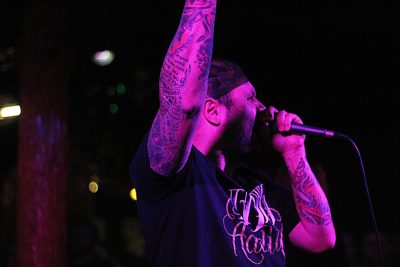 Now on with the music. This was a night of Metalcore, opening with three supports "Where Oceans Burn", "Ghost Iris" & "From Sorrow to Serenity" all who could have easily headlined the night, so tight was each set. But as you could tell by the crowd everyone was here to see the headline. After the Burial, like most Metalcore bands don't start slow rather they smash their sound straight into your face with the first note and then keep up the pummelling until your ears bleed. The crowd loved it. I was here to take photos as well, but the only way to get any was to jump into the mosh pit and take my chances.
After a couple of songs I decided I still wanted to live and therefore retired to the back. This gave me the different experience of standing next to the drummer as the rest of the band gave a frontal attack to the throbbing masses presented to them.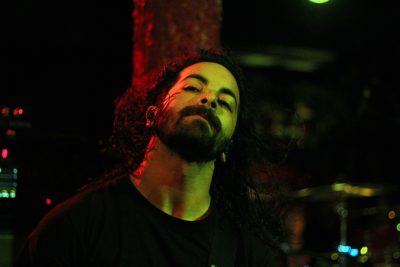 "LETS START A CIRCLE PIT" growled Anthony Notarmaso so they did, however with the stage being in the centre, the circle rotated around the entire club, I think everyone got their step count in tonight!
While I'm no expert on all of Metals sub genres, I know what I like and I like this, song after song of blazing intensity. It reminded me of the energy of Thrash when it was still new. The crowd was mostly sub 25 with that youthful exuberance I looked at longingly.
I think if Satan was watching from below he would have smiled and said all is well with his music. Now lets all raise our devil hands \m/.