In 2016 Ace Frehley released an album of cover versions – "Origins vol. 1". It featured songs by acts as diverse as Cream, Jimi Hendrix, The Rolling Stones, Steppenwolf, and Led Zeppelin plus some KISS songs. Now he's back with a second covers album, "Origins vol. 2". This time there are songs from Led Zeppelin, Mountain, Deep Purple, The Beatles, The Rolling Stones, The Kinks, Cream, Humble Pie, The Jimi Hendrix experience, The Animals, Paul Revere & the raiders plus a KISS song.
Most of the songs are very well known with "Kicks", originally by Paul Revere & the raiders probably the least well known (outside the US at least).
Check out Ace's cover of the Deep Purple classic "Space Truckin"…
It's a great cover but there's one bit that some fans will no doubt think is great and others who love the original might not like – in the chorus instead of singing "Space trucking" he sings "Space Ace trucking". It's a nice idea for him to put his nickname into the song, but it does grate a bit when I listen to it. Other than that it's fairly faithful to the original.
In contrast the Beatles cover ("I'm down") is a lot heavier more powerful and loud than the original while still sticking reasonably closely to the original – no changes to the arrangement other than adding more guitar, it just feels like a heavy metal band playing a pop song the only way they know how – loud and with far more guitar. It's a great cover.
For The Rolling Stones cover, "Jumpin' Jack Flash", Lita Ford takes on the lead vocals. It's something that's noticeable in this album – if Ace feels comfortable that he can sing then he will but where the song is too demanding for him he'll bring in someone else. It's a good strategy and one that also adds some extra variety to the album. Lita Ford does a great job on the vocals for this one.
"30 days in the hole" sees another guest vocalist, Robin Zander (Cheap Trick) who as you'd expect puts in a great performance.
This is a great album. I knew most of the original versions of the songs well but there were a few I was less familiar with – for example "I'm down" is a reasonably obscure Beatles song to cover. Covering well known and much loved songs is always a risky game as people don't always react well to new versions of their favourites but Ace Frehley has done a great job here keeping pretty faithful to the originals while still adding his own touch, primarily making the guitars more prominent and giving the songs a slightly heavier feel. With the less well known songs they tend to be judged more on their merits rather than being compared to the originals so closely and again here he's done well – the Beatles cover is superbly well done, and there's only one song I'm not particularly fond of ("Kicks"). It's nice to hear songs from artists that have influenced Ace Frehley and he's put together a really strong album.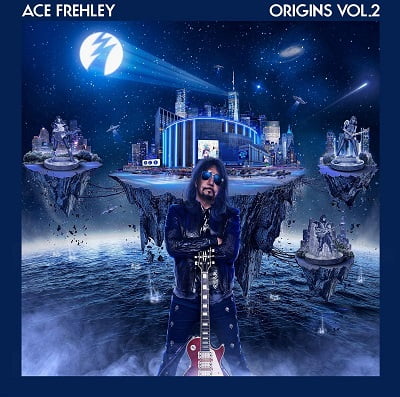 A great album.
Origins vol 2 will be released on 18th September 2020
Track listing:
Good times bad times (originally by Led Zeppelin)
Never in my life (originally by Mountain)
Space truckin' (originally by Deep Purple)
I'm down (originally by The Beatles)
Jumpin' Jack flash (originally by The Rolling Stones)
Politician (originally by Cream)
Lola (originally by The Kinks)
30 days in the hole (originally by Humble Pie)
Manic Depression (originally by The Jimi Hendrix Experience)
Kicks (originally by Paul Rever & the raiders)
We gotta get out of this place (originally by The Animals)
She (bonus track) (originally by KISS)
Ace has done justice to all these songs and some certainly exceed expectations