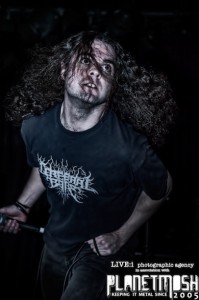 Tonight's gig was supposed to be headlined by Bristolian gore merchants Amputated, but unfortunately the brakes on their hired tour bus failed as they travelled to meet the ferry, and therefore the band were forced to cancel a gig for the first time in their 11 year history.  Nevertheless, promoter James Loveday soldiered on and show went ahead with the three local bands originally scheduled to as supports.
Openers Fuckhammer took to the stage minus bassist Dave, but the deeply downtuned guitar – fed in turn through a bass amp – bottomed out their sound, which is traditional grindcore – dark, heavy and uncompromising… exactly the way this type of music is designed to be played.
https://www.facebook.com/f666hammer
Having made their live debut on this same stage at the beginning of this, and only played a handful of gigs in the interim, Ceaseless Blight's take on traditional black metal is as unrelenting as it is technically precise, smashing heads at 40 paces and filling the void in front of the stage with ranks of flailing, twisting bodies.  Raab's voice is dark and foreboding, and his stagecraft certainly has improved since that February debut, and the rest of the band deliver with aplomb. zest and an expertise often overlooked by so many BM bands, who seem more content to sacrifice substance and ability for sheer brutality.
https://www.facebook.com/CeaselessBlight
Stepping up to headline status, Zombified deliver vitriolic death metal that is as subtle as being thumped in the face with a concrete rolling pin, while once again technically exact and delivered with an experienced ease.  Frontman Pete Clarke is confident and assured, with the right balance of restraint and "get the fuck up" belligerance about both his command of the stage and his deep growling vocal, as both he and the band deliver the soundtrack for the apocalypse:  I for one welcome the imminent obliteration with open arms!
https://www.facebook.com/zombifieduk
Photographs by Paul Verner.  See more photographs in our gallery:  http://planetmosh.com/zombifiedceaseless-blightfuckhammer-limelight-2-belfast-30112013/