XANDRIA premiere "Nightfall" video
The German symphonic metal band XANDRIA will be releasing their new album "Sacrificium" on May 5th 2014 in the UK on Napalm Records!
They are premiering their brand new video "Nightfall" with Team Rock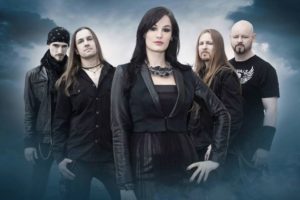 Catch XANDRIA Live in the UK
09.05.14 UK – London / Underworld
10.05.14 UK – Bilston / Dames of Darkness Festival
For More Info Visit:
http://www.xandria.de
https://www.facebook.com/xandriaofficial
LACRIMAS PROFUNDERE premiere "Antiadore" video
LACRIMAS PROFUNDERE premiere the brand new video for the title track from their 'Antiadore' album online at Terrorizer.
A lot of bands have failed in the tricky undertaking to combine melancholy and heaviness, but not LACRIMAS PROFUNDERE, who pull it off on "Antiadore"  without breaking a sweat.
The band stayed true to their sombre roots on this album, but has elevated the characteristic sound to new heights. Thus, even exceeding their previous masterworks such as "The Grandiose Nowhere" or "Songs For The Last View". "Antiadore" is heavy, melancholic, and touches upon the hidden feelings in the darkest corners of the soul. Ballads like "Still In Need" or "Head Held High" meet heavy breakers like "Abandon" or the punding "What I´m Not".
The band revolving around Oliver Schmid Nikolas Schmid presents itself with a newfound energy and offer their most diverse and mature album! Goth Rock enthusiasts will fall in love with "Antiadore"! Goth 'N' Roll!
https://twitter.com/lacrimasoff
"Antiadore" is out now via Napalm Records