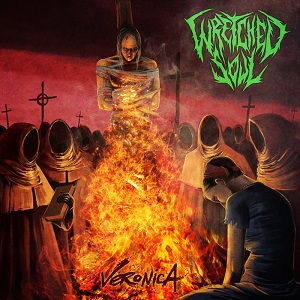 Wretched soul are a death/thrash metal band from Canterbury.  The band played Bloodstock festival last year, and on 9th September will be releasing their debut album, Veronica.
Brief comments on a few tracks…
The album kicks off with 'Where shadows ride'.  The guitars have a very traditional heavy metal feel to them, although the speed tends more towards thrash, but the vocals are definitely more in the death metal style.  The resulting mix works really well.  Half way through the song the pace changes and becomes slower for a while before it picks up again later.  A great song that gets the album off to a good start.
'Summon the hunter' is a fast paced song with a mix of clean vocals for the chorus and death metal style vocals for the verses.  Nice guitar riffs and a good strong tune make this another great track.
'Veronica' starts off sounding more like a hard rock track, with the pounding drums being the main clue there's more to come.  It's not long before the growling vocals kick in and alternate with the clean vocals.  A great track.
This is a great debut album – definitely a band worth listening to.
You can catch Wretched Soul at their album launch show on 12th September at The Underworld in Camden where they are opening for Mercenary and Omnium Gatherum, or on tour in November…
01/11 LONDON Borderline (Supporting Savage Messiah)
15/11 DUDLEY  Zombie Club (with Re-Armed)
16/11 GLASGOW Audio (with Re-Armed)
17/11 LONDON Suyra (with Re-Armed)
18/11 CARDIFF  Fuel Rock Club (with Re-Armed)
19/11 NORWICH B2 (with Re-Armed)
20/11 HIGH WYCOMBE Scorpios (with Re-Armed)
21/11 BIRMINGHAM Scruffy Murphys (with Re-Armed)
22/11 BRIDLINGTON Shades Nightclub (with Re-Armed)
23/11 LEEDS  Bad Apples Rock Bar (with Re-Armed)
'Veronica' will be released on 9th September 2013 via Dark Lord Records
Rating: 8/10
Track listing:
1. Where shadows ride
2. Summon the hunter
3. Veronica
4. Undying war
5. Wounded illusion
6. Black wings of treachery
7. The Unmaking
8. Dash to destruction
Wretched Soul are:
Chris Simmons – vocals
Steve Clifford – guitar
Andy Clifford – drums
Luke Mayell – bass