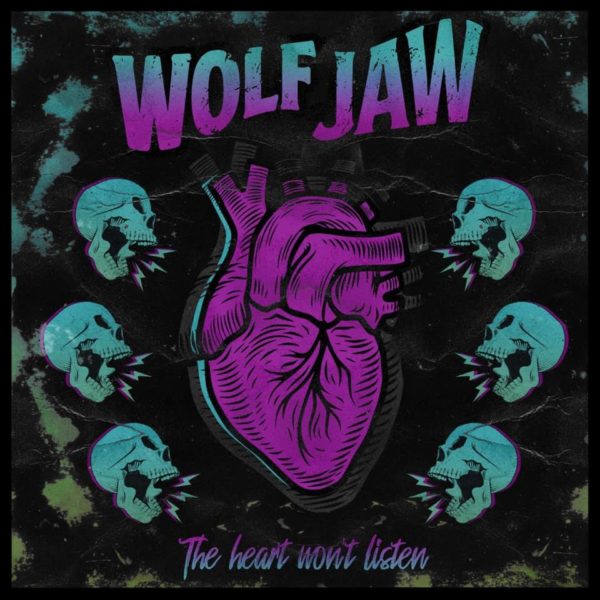 A band name change from The Bad Flowers to Wolf Jaw sees them bloom into a band now barking at the moon, point proven by current studio album The Heart Won't Listen, released via the aptly titled Listenable Records label. I'd seen the band twice before hearing this album and wondered if they could harness their Cream like power in the studio but they certainly do throughout these eleven tracks.
The Cannock based trio open the album strongly with 'Hear Me' as it swirls around like a punkier Kyuss as a fuzzed up speaker shaking midsection precedes a scorching guitar solo from front man Tom Leighton. Brooding bass heavy lines from Dale Tonks charge up the verses for 'I Ain't Ready' that riff up for the choruses and a bombastic outro. As its title suggests, 'Ticking Time Bomb' does just that as it rumbles along menacingly and the fuse is almost lit by a string bending solo midway. A totally infectious riff in 'The Fighter' gives it wrecking ball power but with enough subtle melodies to complement the boisterous drums of Karl Selickis. 'Piece Of Me' is an emotionally charged epic. Almost indie like in its chords that vie for attention with the blustering choruses.
Heart strings are tugged once more during 'Open Your Eyes'. A gentle acoustic opening riff flows through the first half of its six minutes as it's taken on with an electric as a manic solo ridden outro steps back for a final acoustic breath. The moody 'Choke' wakes up from an opening slumber into stomping choruses. 'I Lose My Mind' is a short, sharp headbanger, no more, no less that ups the ante. Psychedelic guitar licks drive 'Shoulda, Woulda, Coulda' along as this quirky rocker is backed by a vocal tirade from Tom. 'Beast' is an avalanche of powerful grooves as the trio lock in tight here making it my album highlight. Final song 'Living The Dream' flies along like the Foos at their heaviest, given extra muscle by some serious drum pounding.
The Heart Won't Listen album track listing :-
Hear Me.
I Ain't Ready.
Ticking Time Bomb.
The Fighter.
Piece Of Me.
Open Your Eyes.
Choke.
I Lose My Mind.
Shoulda, Woulda, Coulda.
Beast.
Living The Dream.
Wolf Jaw band line up :-
Tom Leighton – Guitar/lead vocals.
Dale Tonks – Bass guitar/vocals.
Karl Selickis – Drums.
The power is certainly unleashed by this power trio!